This summer, we've brought the Google Assistant to more devices across Europe and the rest of the world to help you get answers and get things done in more languages (most recently supporting Spanish, Swedish and Dutch).
At IFA 2018, we're adding multilingual support, so that the Assistant will be able to understand and speak more than one language at a time. Additionally, we'll be introducing new phones and a broad range of devices and appliances for the home that support the Assistant from our growing ecosystem of partners in Europe.
Talk to the Google Assistant in multiple languages
Family members in bilingual homes often switch back and forth between languages, and now the Assistant can keep up. With our advancement in speech recognition, you can now speak two languages interchangeably with the Assistant on smart speakers and phones and the Assistant will respond in kind. This is a first-of-its-kind feature only available on the Assistant and is part of our multi-year effort to make your conversations with the Assistant more natural.
If you're looking for an answer in English, ask, "Hey Google, what's the weather like today?" If you're craving tunes from your favorite German hip hop band, just ask "Hey Google, spiele die Fantastischen Vier." Currently, the Assistant can understand any pair of languages within English, German, French, Spanish, Italian, and Japanese. We'll be expanding to more languages in the coming months.
Enjoying home entertainment
Listening to music is one of the most popular ways people use the Assistant. That's why we built the Google Home Max to offer high-fidelity and balanced sound and now it's available in Germany, UK and France—Google Home Max will hit store shelves starting today.
This week, we're also announcing that the Assistant will be built into new voice-activated speakers, including the Bang & Olufsen's Beosound 1 and Beosound 2, Blaupunkt's PVA 100, Harman Kardon's HK Citation series, Kygo's Speaker B9-800, Polaroid's Sam and Buddy and Marshall Acton II and Stanmore II. Expect these smart speakers and soundbars to roll out later this year in local European markets.
Getting things done in the kitchen
On the heels of introducing our first ever Smart Displays last month with Lenovo, we're expanding our offerings with the upcoming launch of JBL's Link View and LG XBOOM AI ThinQ WK9 in the coming weeks. With these new Smart Displays, you'll have the perfect kitchen companion. You can use your voice and tap or swipe the screen to follow along with a recipe, control your smart home, watch live TV on YouTube TV, and make video calls with Google Duo. Smart Displays also come integrated with all your favorite Google products services like Google Calendar, Google Maps, Google Photos and YouTube.
Controlling all connected devices in your home
The Assistant is also making your home even smarter. Just in the past year, there are now triple the number of home devices and appliances that work with the Assistant in Europe from all the major local brands you're familiar with.
Our partners will be releasing more devices that work with the Assistant throughout the home in the coming months, including:
Thermostats: tado° Smart Thermostat and Smart Radiator Thermostat, Homematic IP Radiator Thermostate
Security and Smart Home Hubs: Netatmo's Smart Indoor and Outdoor Security Cameras, TP-Link's Kasa Cam KC120 and Kasa Cam Outdoor KC200, Smanos K1 SmartHome DIY Security Kit, and Somfy' TaHoma smart home hub
Lighting: FIBARO Switch, MEDION RGB LED bulb and stripe, and the Nanoleaf Light Panels
Appliances: Electrolux's smart ovens, iRobot® Roomba® 980, 896 and 676 vacuums
Whether you speak German, French, English, Italian, Spanish, you'll be able to set the temperature, lock the doors, dim the lights and more from a smart speaker and smartphone.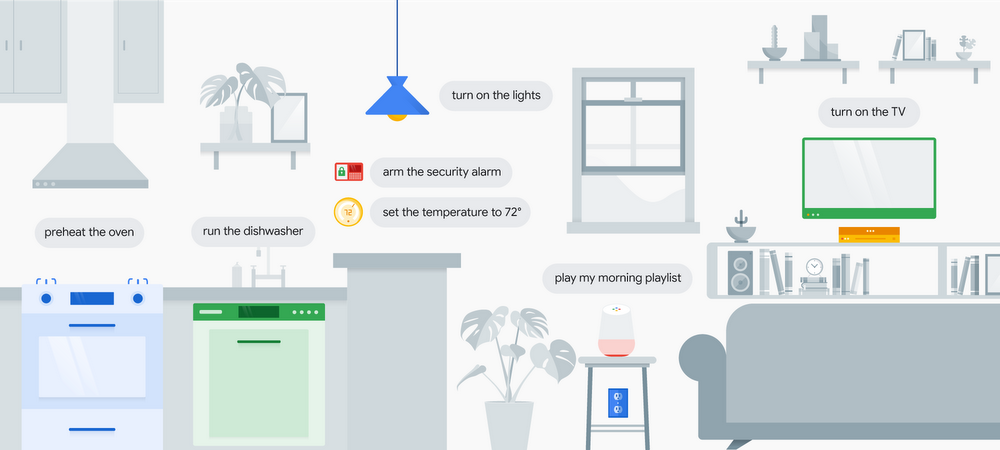 On the go with your phone and headphones

The Google Assistant is expanding on more Android phones and headphones, helping you when you're on the go. Some of the latest flagship devices, including the LG G7 One, SHARP Simple Smartphone 4 and Vivo NEX S, now feature dedicated buttons to easily access the Assistant. In addition, the new Xperia XZ3 from Sony and Blackberry Key 2 LE also take advantage of the shortcuts to trigger the Assistant.
And this week we're announcing that over the coming year, more headphones are on the way, including the JBL Everest GA and LG Tone Platinum, and Earin M-2. When you pair them to your phone, you can talk to the Assistant instantly with just a touch, whether you want to skip a track to hear the next song, get notifications, and respond to your messages, or set reminders.
Phew, that was a lot of news. With lots of new devices and partners coming to Europe, the Google Assistant will be available to help you through every step of your day.
Empty homes are more vulnerable to being burglarized, and it's important to have a system in place that can monitor, alert and deter crime while you're away. That's where the Google Assistant can step in and help you keep an eye on everything at home.
We worked some of the most trusted home security brands to launch new devices that work with the Assistant.
Monitor your home 24/7. There are many security cameras and lights out there that work with the Assistant to help you keep an eye on your home while you're away. With the new Arlo Security Lights, you can get instant alerts when motion is detected or pair the lights with Arlo security cameras. There are also several cameras, such as the Nest Cam, for the interior and exterior of your home that stream 24/7 and can be checked by simply asking the Google Assistant on the app. And with any Nest Cam model, you can also ask Assistant to stream live feeds onto Chromecast-enabled televisions. If there's an intruder, talk and listen through the camera to scare them off.

Lock from anywhere.Smart locks allow you to lock your door from anywhere in the world, making it easy for you to monitor your doorstep while you're away. Beginning tomorrow we'll launch a new integration with the Nest x Yale Lock.You can use the Assistant to check the status of your lock, remotely lock it, and even include it in a Routine. For example you can lock the door automatically before going to bed by saying "Hey Google, goodnight." Additionally, with the recent integrations of the Assistant with the August Smart Lock, Schlage® Sense Smart Deadbolt, and Sesame Lock by Candy House, you can share access with trusted friends and family and lock the door with your voice. You'll also get an alert whenever someone locks or unlocks the door.

Keep your home secure. Security systems aren't new but "smart" security systems are. ADT Pulse, Honeywell's new Smart Home Security solution and Nest Secure alarm system will let you know what's happening at your home while you're gone. If the alarm goes off, you'll get an alert on your phone with information about what triggered the alarm. Silence the alarm through the apps and alert the police.
With these new security devices, your now have an easy way to protect your home with the Google Assistant.
Posted by Nevin Mital, Partner Developer Relations
The Media Controller Test (MCT) app is a powerful tool that allows you to test the intricacies of media playback on Android, and it's just gotten even more useful. Media experiences inclu..
Over the last couple years something interesting happened—millions of people began having conversations with their speakers, cars, computers and phones. Voice technology is fundamentally changing the way we use we our devices, often in ways we didn't expect.
We've learned a lot about how we can better serve people's needs with voice, helping them save time and get things done. Here are a few things we've learned since we introduced the Google Assistant nearly two years ago.
Voice is about action.
When people talk to their Google Assistant, they're usually trying to get something done. Assistant queries are 40 times more likely to be action-oriented than Search, with people asking for things like "send a text message," "turn off the lights," or "turn on airplane mode."
Why do we think this is happening? For many tasks, particularly while you're on the go, it can be much easier to get things done through voice. I can say "turn on the lights and play some music," without having to worry about which app I need to open. Even for basic things like creating a calendar invite, I don't have to look down at my phone or interrupt what I'm doing, I can just say "create an appointment for noon on Saturday." These seem like small things, and they are. But they illustrate what makes voice so unique—the technology allows me to complete a task in a way that feels natural. The more we can build these types of experiences, the closer we get to an ideal Assistant.
People expect conversations.
When people start using voice assistants, we often see very simple commands. But very quickly, expectations go up in terms of complex dialogue. We might see "weather Chicago" typed in Search, whereas with the Assistant we see much longer and more conversational queries like "what's the weather today in Chicago at 3pm." On average, Assistant queries are 200 times more conversational than Search.
We've seen that even simple commands can take all forms. For example, people ask the Google Assistant to set an alarm in more than 5,000 different ways, which means that we have to build the Assistant to understand this conversational complexity.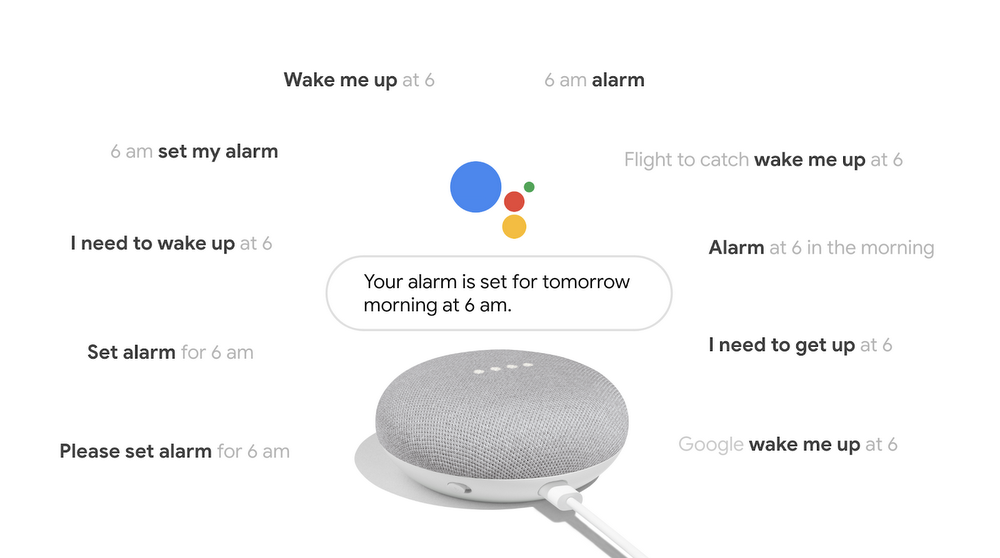 Screens change everything.
The world hasn't completely shifted to voice, nor do we expect it to. Screens bring a completely new canvas for conversational AI, where we can bring together voice and touch in an intelligent way. So when you ask for a pasta dough recipe, you can get visuals of what the dough should look like while the Assistant reads you the steps along the way.
With the launch of Smart Displays and our new visual experience for phones, we've evolved the Google Assistant to become much more dynamic, spanning voice, screens, tapping and typing. And we're seeing people respond—in fact, nearly half of interactions with Assistant today include both voice and touch input.
Daily routines matter.
You can access the Assistant almost anywhere you are throughout the day—on the phone, in the car, or on a speaker in the living room. So it makes sense that when people use the Assistant, it's largely driven by their environment and what they're trying to accomplish in their daily routines.
Let's take a look at some of the most popular ways we use the Google Assistant in our daily routines. In the morning, we'll use our smart speakers to ask for the weather or listen to the news. During lunch and on the commute home, we'll text and call our friends, or look for local restaurants. When we get home, we want to listen to music. And at the end of the day, we get ready for tomorrow with tasks like "set an alarm," "set a reminder," or "ask the Assistant to tell me about tomorrow's meetings." Where and how we use our Assistant varies throughout the day, but the consistency of the experience should stay the same.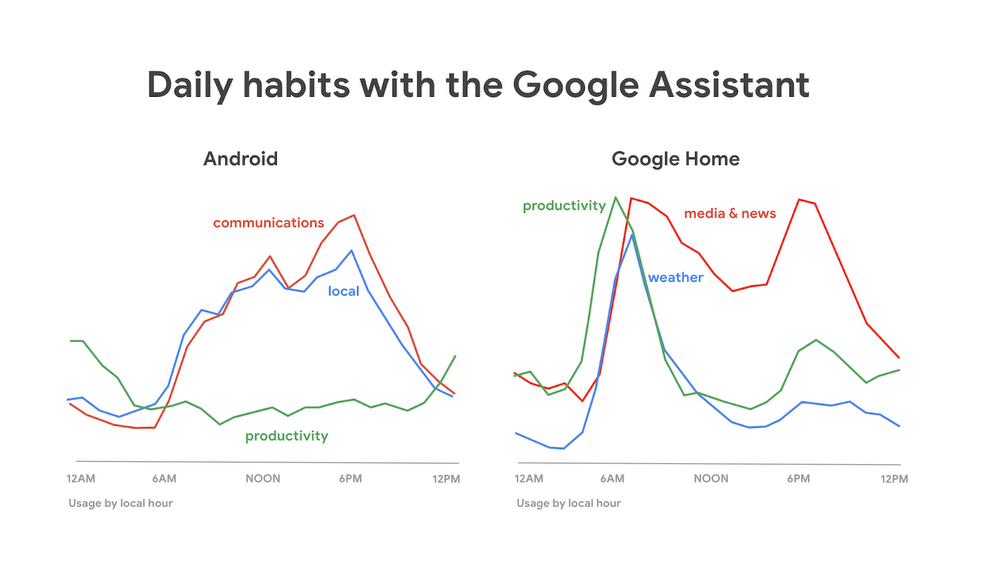 Voice is universal.
One of the most exciting things to witness about digital assistants is that even though the Assistant is a new technology, it's incredibly easy to adopt. There's no user manual needed, and people of all ages, across all types of devices, and in many different geographies can use the Assistant. Because of this, we're finding that Google Assistant users defy the early adopter stereotype—there's a huge uptick in seniors and families, and women are the fastest growing user segment for the Assistant.
Voice is also universal on a global scale. Over the past year, we've brought the Assistant to more countries and languages. In places where people are coming online for the first time—like India, where Google Assistant usage has tripled in India since the beginning of the year—voice is taking the forefront as the primary way they interact with their devices.
Of course voice technology is still relatively new and evolving. We're just figuring out what works in this space. But it's exciting to see how voice technology is making it easier for people to get things done, and we're all learning together.
Over the last couple of years, you've been able to talk to the Google Assistant to get things done. Today we're launching Smart Displays, a new category of devices for the smart home that brings the Google Assistant to an interactive screen for a richer visual experience. And the first Smart Display from Lenovo will go on sale in major U.S. retail and online stores this weekend.
With the Google Assistant built in, the Lenovo Smart Display brings you the best of Google services, including Maps, YouTube, Calendar, Duo and Photos, in a visual and helpful way. It's easy to set up, so you can immediately enjoy your favorite entertainment, control your smart home, stay in touch with friends and family, and manage your day with simple voice commands and touch gestures.
Let's dig a bit deeper into some things you can do with your Assistant on Smart Displays:
Enjoy music, news and podcasts
Smart Displays offer a rich experience for enjoying music, news, podcasts or audiobooks from popular services. With the combination of voice and a screen, it's easy to browse and find that perfect song, album, or playlist. Here are a few things you can do:
Stream your favorite music with YouTube Music, Google Play Music, Spotify, and Pandora, with free tier available for all services
Stay informed with Google News, including the latest video news briefs featuring national and local publishers like CNBC, CBS, and Cheddar
Jam to your favorite radio stations with iHeartRadio and TuneIn
Catch up on your favorite podcasts with Google Podcasts
Or listen to audiobooks from Google Play Books. With audiobooks or podcasts, your Assistant will pick up right where you left off, even if you were listening on your phone earlier.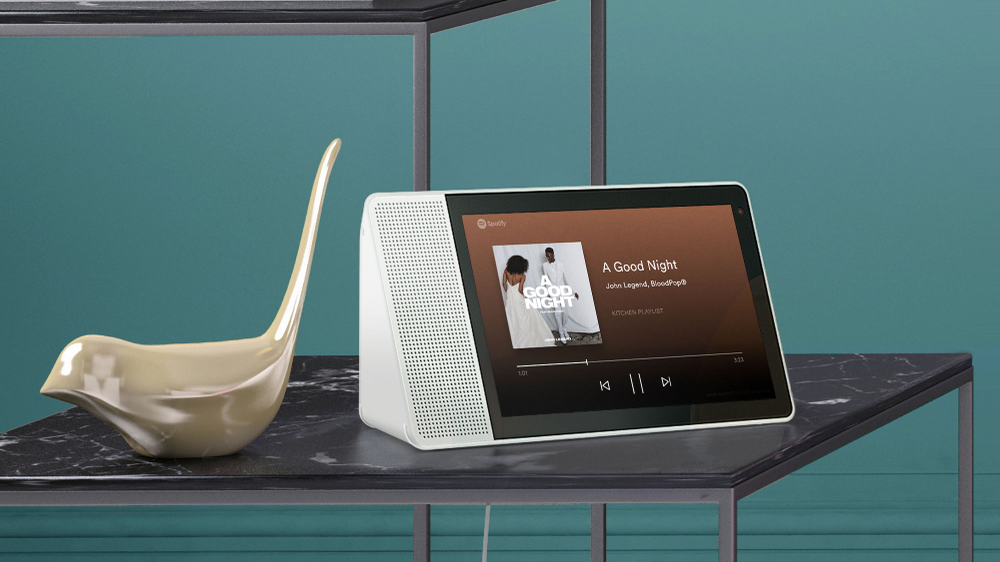 Play videos and watch TV
Ask YouTube to play anything: how-to videos, cooking videos, product reviews, you name it! And, with every Smart Display, you get three free months of YouTube Premium (for new subscribers).
If you have a YouTubeTV membership, you can enjoy live or recorded TV in your library, no remote control necessary.The next time you want to turn on the game, you can say "Hey Google, watch ESPN" to start streaming. Many other popular video services are supported too, including HBO Now, Google Play Movies & TV and Crackle.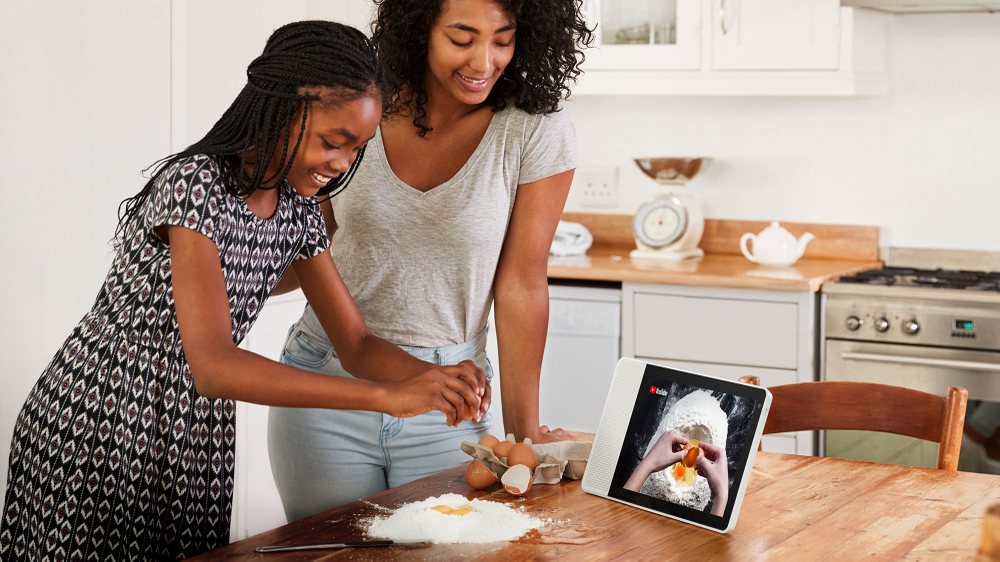 Browse recipes and get step-by-step cooking guidance
Your Assistant can even help you prepare a great meal on Smart Displays. Browse through thousands of recipes, then the Assistant can provide step-by-step hands-free guidance on screen. Of course, you can set timers and play music while you cook.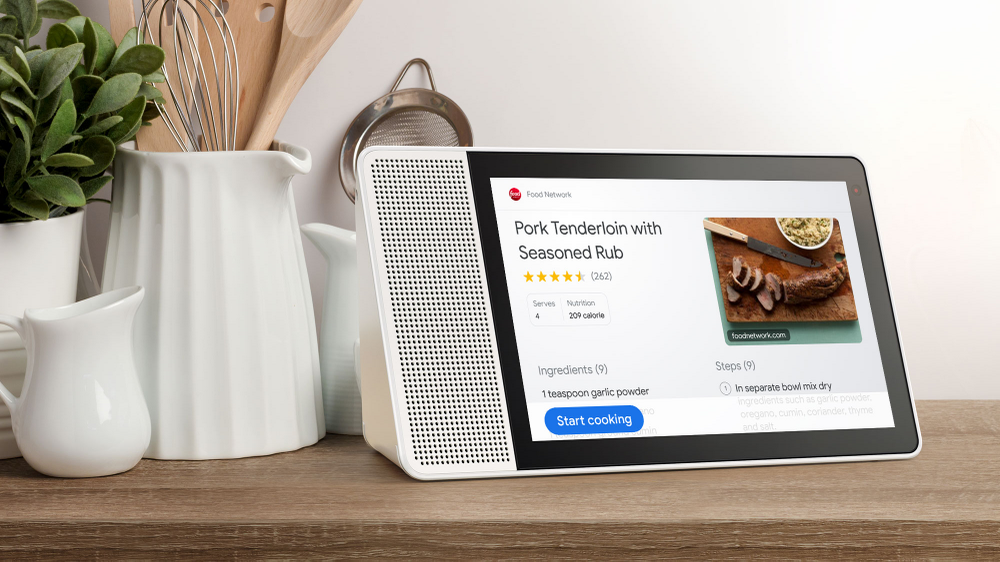 Get answers, manage your day, and stick to your routines
Google Assistant Routines makes it even easier to stay on top of your day using your Smart Display. Just say "Hey Google, good morning" to get a verbal and visual summary of the weather, traffic to work, reminders, your agenda and then play a video news brief from your preferred news sources.
You can even create and manage a shopping list on your Smart Display and bring up your list on your phone when you're at the grocery store. Or, avoid the trip and order a delivery with Google Express from your favorite stores like Costco, Target and Walmart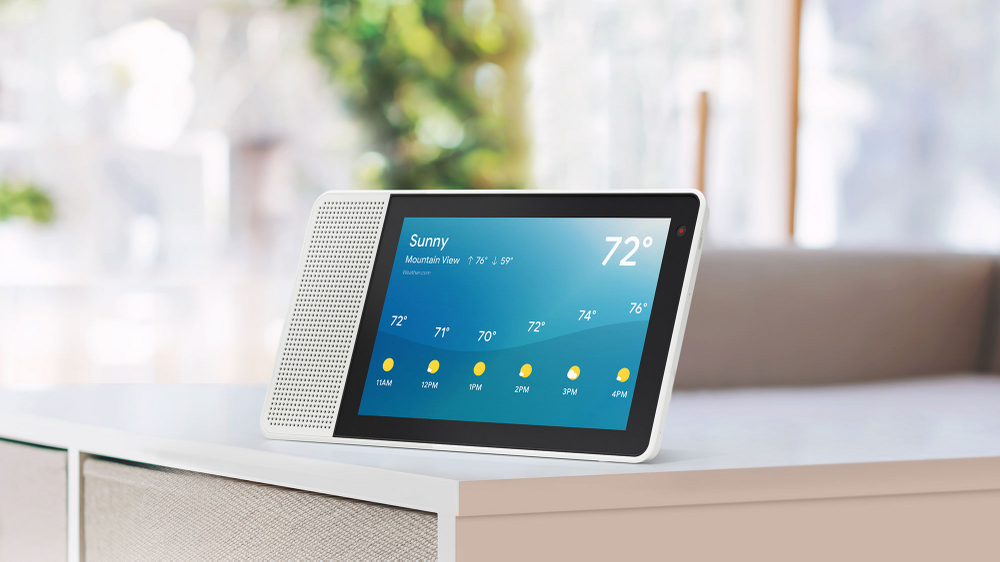 Keep in touch with loved ones
With video calling on Google Duo, you can instantly connect with your closest friends and family on Smart Displays. Duo is also built in on Android phones and available for free on iOS, so you can call your friends and family hands-free across devices. Just say, "Hey Google, call Rachel" to start a high-quality video or audio call.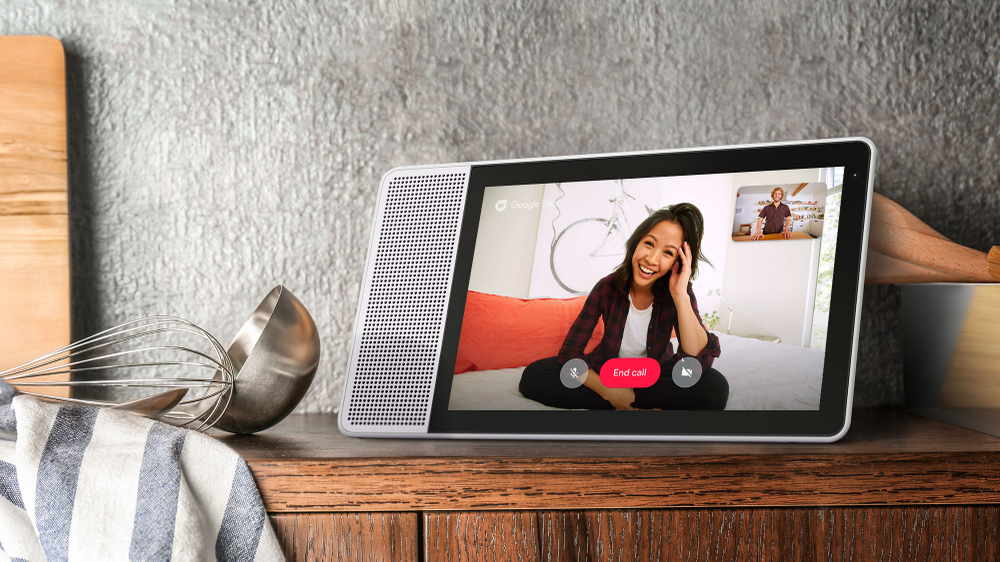 Relive your memories
The Smart Display is also a delightful way to enjoy Google Photos. When you're not using your Smart Display, the screen can serve as an always-on digital photo album. And you can just ask the Assistant whenever you want to see specific pictures of a family vacation or other special moments with the important people in your life.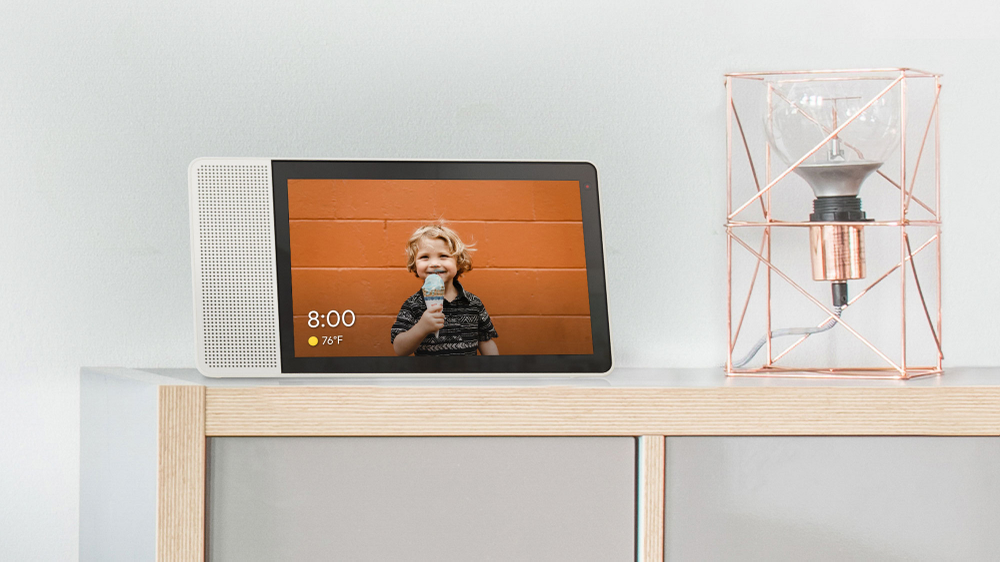 Control your smart home
Just ask "Hey Google, show me the family room" to check on things with the Nest Cam. Turn up the thermostat, dim the lights or change the color—all with your voice or a simple touch screen control.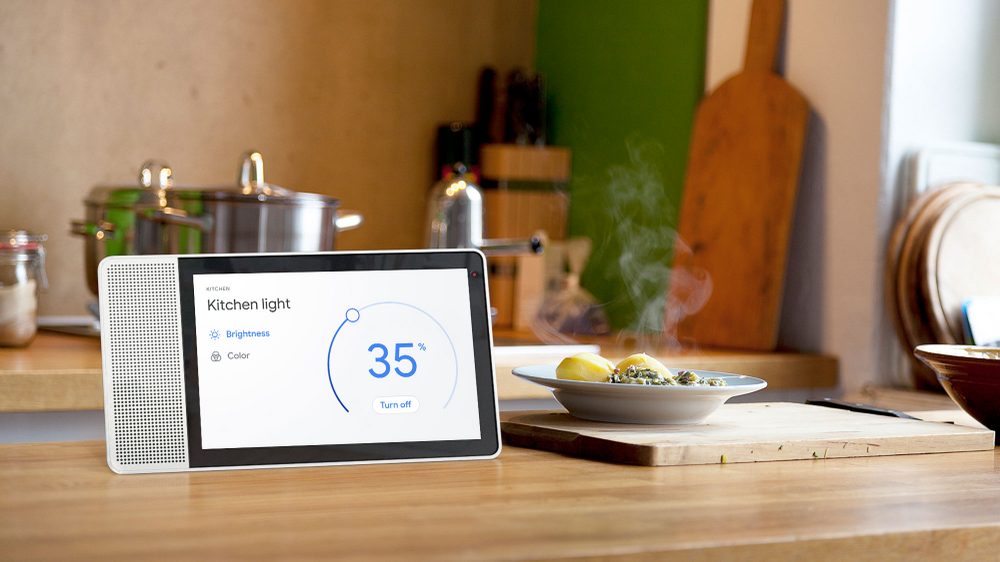 The Lenovo Smart Display is available in two display sizes and colors: the 8-inch HD version for $199.99 and the 10-inch Full-HD version for $249.99, and they both come with a full-range 10 watt speaker for loud and clear audio. You can grab it on shelves or online at Walmart, BestBuy.com, Amazon.com, Costco.com, SamsClub.com, Lenovo.com and other stores.
We'll expand the Smart Display options with other partners, including JBL and LG, coming soon. And while there are over 1 million Actions already available for the Assistant, we're excited to see what developers will design for Smart Displays, too.
Posted by Neto Marin – Actions on Google Developer Advocate
There are millions of apps in the Android ecosystem, so helping yours get discovered can require some investment. Your app needs to offer something that differentiates it from o..
Today, we're kicking off our annual I/O developer conference, which brings together more than 7,000 developers for a three-day event. I/O gives us a great chance to share some of Google's latest innovations and show how they're helping us solve problems for our users. We're at an important inflection point in computing, and it's exciting to be driving technology forward. It's clear that technology can be a positive force and improve the quality of life for billions of people around the world. But it's equally clear that we can't just be wide-eyed about what we create. There are very real and important questions being raised about the impact of technology and the role it will play in our lives. We know the path ahead needs to be navigated carefully and deliberately—and we feel a deep sense of responsibility to get this right. It's in that spirit that we're approaching our core mission.
The need for useful and accessible information is as urgent today as it was when Google was founded nearly two decades ago. What's changed is our ability to organize information and solve complex, real-world problems thanks to advances in AI.
Pushing the boundaries of AI to solve real-world problems
There's a huge opportunity for AI to transform many fields. Already we're seeing some encouraging applications in healthcare. Two years ago, Google developed a neural net that could detect signs of diabetic retinopathy using medical images of the eye. This year, the AI team showed our deep learning model could use those same images to predict a patient's risk of a heart attack or stroke with a surprisingly high degree of accuracy. We published a paper on this research in February and look forward to working closely with the medical community to understand its potential. We've also found that our AI models are able to predict medical events, such as hospital readmissions and length of stays, by analyzing the pieces of information embedded in de-identified health records. These are powerful tools in a doctor's hands and could have a profound impact on health outcomes for patients. We're going to be publishing a paper on this research today and are working with hospitals and medical institutions to see how to use these insights in practice.
Another area where AI can solve important problems is accessibility. Take the example of captions. When you turn on the TV it's not uncommon to see people talking over one another. This makes a conversation hard to follow, especially if you're hearing-impaired. But using audio and visual cues together, our researchers were able to isolate voices and caption each speaker separately. We call this technology Looking to Listen and are excited about its potential to improve captions for everyone.
Saving time across Gmail, Photos, and the Google Assistant
AI is working hard across Google products to save you time. One of the best examples of this is the new Smart Compose feature in Gmail. By understanding the context of an email, we can suggest phrases to help you write quickly and efficiently. In Photos, we make it easy to share a photo instantly via smart, inline suggestions. We're also rolling out new features that let you quickly brighten a photo, give it a color pop, or even colorize old black and white pictures.
One of the biggest time-savers of all is the Google Assistant, which we announced two years ago at I/O. Today we shared our plans to make the Google Assistant more visual, more naturally conversational, and more helpful.
Thanks to our progress in language understanding, you'll soon be able to have a natural back-and-forth conversation with the Google Assistant without repeating "Hey Google" for each follow-up request. We're also adding a half a dozen new voices to personalize your Google Assistant, plus one very recognizable one—John Legend (!). So, next time you ask Google to tell you the forecast or play "All of Me," don't be surprised if John Legend himself is around to help.
We're also making the Assistant more visually assistive with new experiences for Smart Displays and phones. On mobile, we'll give you a quick snapshot of your day with suggestions based on location, time of day, and recent interactions. And we're bringing the Google Assistant to navigation in Google Maps, so you can get information while keeping your hands on the wheel and your eyes on the road.
Someday soon, your Google Assistant might be able to help with tasks that still require a phone call, like booking a haircut or verifying a store's holiday hours. We call this new technology Google Duplex. It's still early, and we need to get the experience right, but done correctly we believe this will save time for people and generate value for small businesses.
Overview – Smart Compose.gif

Smart Compose can understand the context of an email and suggest phrases to help you write quickly and efficiently.

With Google Photos, we're working on the ability for you to change black-and-white shots into color in just a tap.

Overview – Smart Display.jpg

With Smart Displays, the Google Assistant is becoming more visual.
Understanding the world so we can help you navigate yours
AI's progress in understanding the physical world has dramatically improved Google Maps and created new applications like Google Lens. Maps can now tell you if the business you're looking for is open, how busy it is, and whether parking is easy to find before you arrive. Lens lets you just point your camera and get answers about everything from that building in front of you … to the concert poster you passed … to that lamp you liked in the store window.
Bringing you the top news from top sources
We know people turn to Google to provide dependable, high-quality information, especially in breaking news situations—and this is another area where AI can make a big difference. Using the latest technology, we set out to create a product that surfaces the news you care about from trusted sources while still giving you a full range of perspectives on events. Today, we're launching the new Google News. It uses artificial intelligence to bring forward the best of human intelligence—great reporting done by journalists around the globe—and will help you stay on top of what's important to you.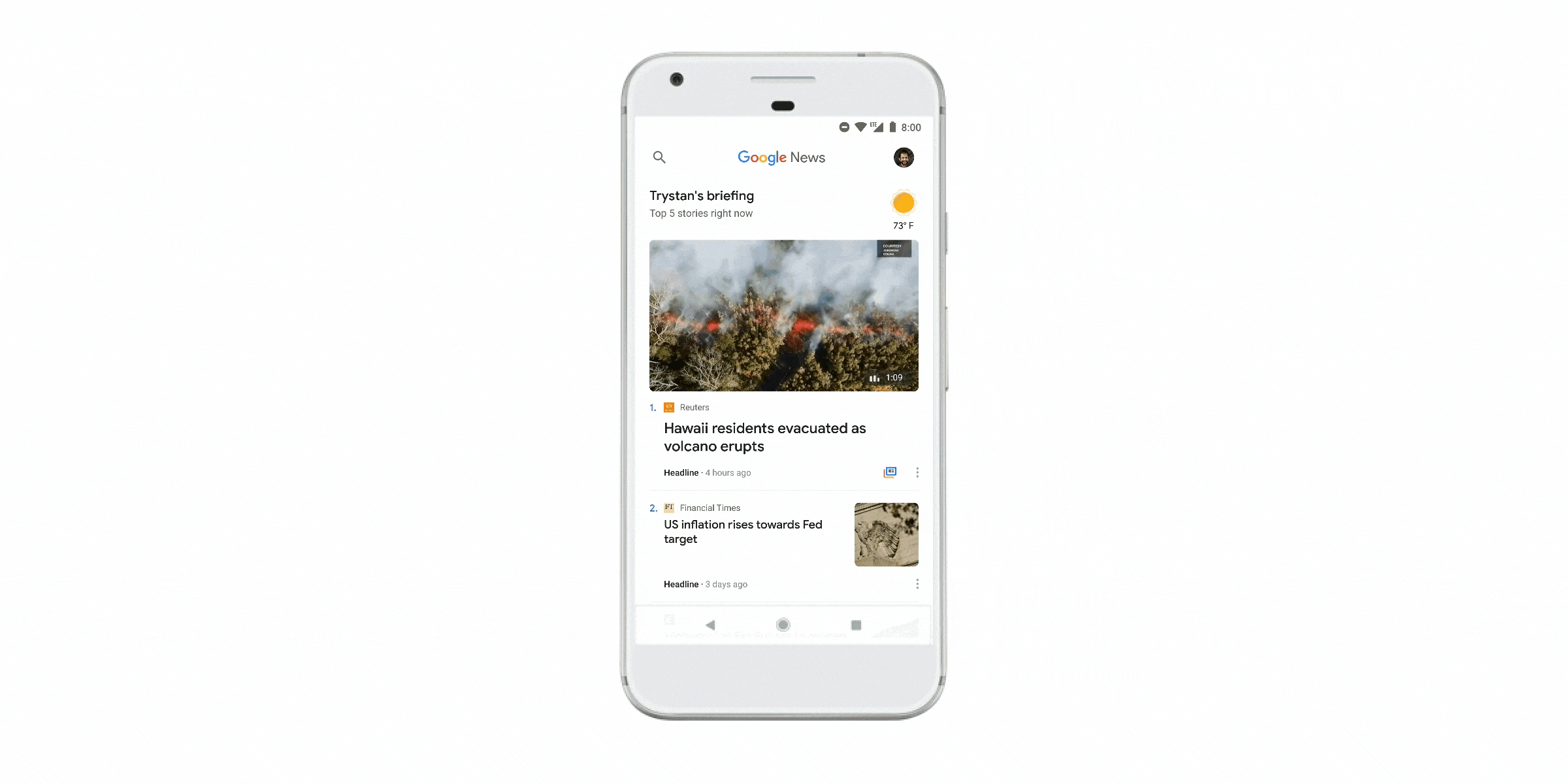 Helping you focus on what matters
Advances in computing are helping us solve complex problems and deliver valuable time back to our users—which has been a big goal of ours from the beginning. But we also know technology creates its own challenges. For example, many of us feel tethered to our phones and worry about what we'll miss if we're not connected. We want to help people find the right balance and gain a sense of digital wellbeing. To that end, we're going to release a series of features to help people understand their usage habits and use simple cues to disconnect when they want to, such as turning a phone over on a table to put it in "shush" mode, or "taking a break" from watching YouTube when a reminder pops up. We're also kicking off a longer-term effort to support digital wellbeing, including a user education site which is launching today.
These are just a few of the many, many announcements at Google I/O—for Android, the Google Assistant, Google News, Photos, Lens, Maps and more, please see our latest stories.
Both the Google Assistant and Google Home had a very big year in 2017, with new devices, new languages and new features. The Assistant is now available on more than 400 million devices, including speakers like Google Home, Android phones and tablets, iPhones, headphones, TVs, watches and more. We brought the Google Assistant to a dozen countries, from France to Japan, offering help in 8 languages around the globe.
With Google Home Mini and Google Home Max in addition to our original Google Home, we brought you even more ways to use the Assistant in your home. So it's no wonder we've sold tens of millions of all our Google devices for the home over this last year. And in fact, we sold more than one Google Home device every second since Google Home Mini started shipping in October.
As we've added more features—like Voice Match, Broadcast and Hands-Free Calling—the Google Assistant has become even more helpful. Your Assistant now gives you the power to voice control more than 1,500 compatible smart home devices from over 225 brands. With all these choices, you've connected millions of new smart home devices to Google Home every month. All told, Google Home usage increased 9X this holiday season over last year's, as you controlled more smart devices, asked more questions, listened to more music, and tried out all the new things you can do with your Assistant on Google Home.
No matter where you are, the Google Assistant is here to help you make the most of 2018. And next week, we have even more things in store for the Assistant at the Consumer Electronics Show in Las Vegas. If you're at CES, stop by the Google Assistant Playground (Central Plaza-21) to check out some of our new integrations, devices, and the newest ways you can use your Assistant.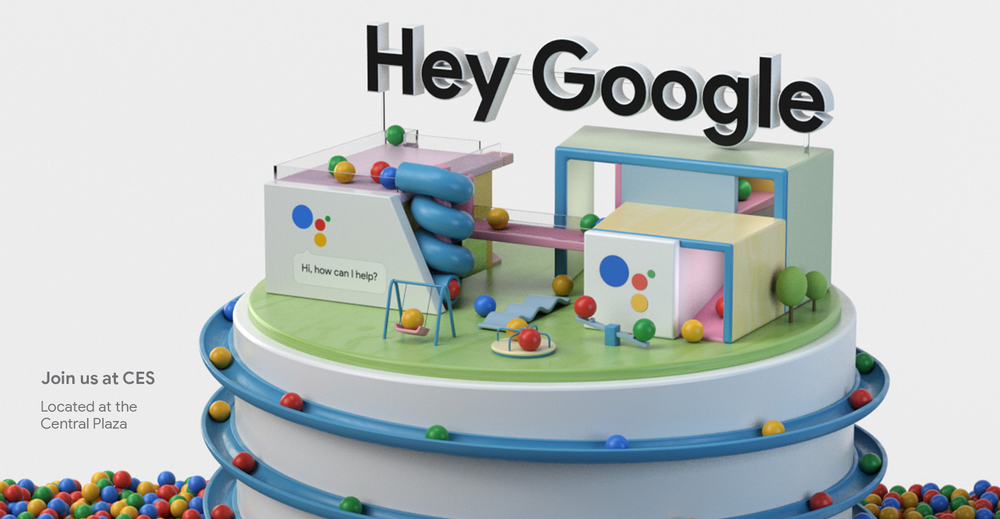 It's usually pretty easy to flip a light switch. But when you're out at night and realize your dog is sitting at home in the dark, or want to set mood lighting for movie night from the comfort of the couch, it'd be nice to have some help. The Assistant on your phone or smart speaker, like Google Home, can help you control your home—whether it's turning on the lights or turning up the heat—with more than 1,000 compatible devices.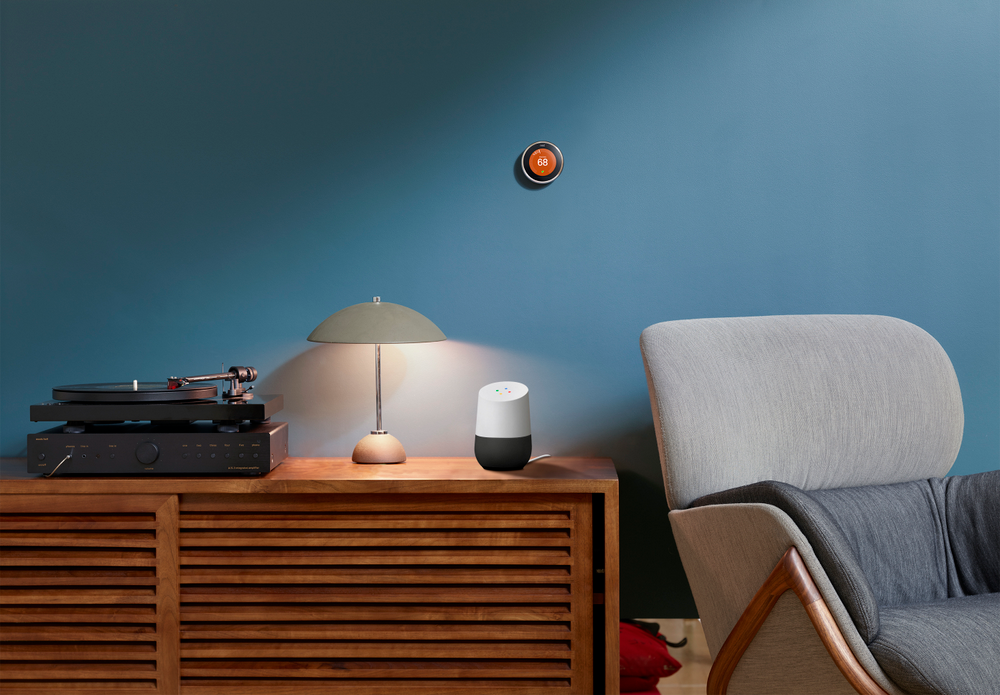 Pro-tip: Since it's the holiday season, don't forget that you can use your smart plugs like Insignia, Caséta by Lutron and TP-Link, to help bring holiday cheer to your home! Just connect these smart plugs to your holiday lights and you can easily turn them on and off, so no more crawling around a tree or accidentally leaving your lights on during the day.
And these are just a few of the new integrations. There are lots more ways to control your compatible lights, thermostats, cameras and more, right with your Google Assistant. Check out the ever-growing list.
From phones to speakers to watches and more, the Google Assistant is already available across a number of devices and languages—and now, it's coming to Android tablets running Android 7.0 Nougat and 6.0 Marshmallow and phones running 5.0 Lollipop.
The Google Assistant, now on Tablets
With the Assistant on tablets, you can you can get help throughout your day—set reminders, add to your shopping list (and see that same list on your phone later), control your smart devices like plugs and lights, ask about the weather and more.
The Assistant on tablets will be rolling out over the coming week to users with the language set to English in the U.S.
Lollipop phones, introducing your Assistant
Earlier this year we first brought the Assistant to Android 6.0 Marshmallow and higher with Google Play Services. Today, we're adding Android 5.0 Lollipop to the mix, so even more users can get help from the Google Assistant.
The Google Assistant on Android 5.0 Lollipop has started to roll out in to users with the language set to English in the U.S., UK, India, Australia, Canada and Singapore, as well as in Spanish in the U.S., Mexico and Spain. It's also rolling out to users in Italy, Japan, Germany, Brazil and Korea. Once you get the update and opt-in, you'll see an Assistant app icon in your "All apps" list.
So now the question is … What will you ask your Assistant first?
Looking at a landmark and not sure what it is? Interested in learning more about a movie as you stroll by the poster? With Google Lens and your Google Assistant, you now have a helpful sidekick to tell you more about what's around you, right on your Pixel.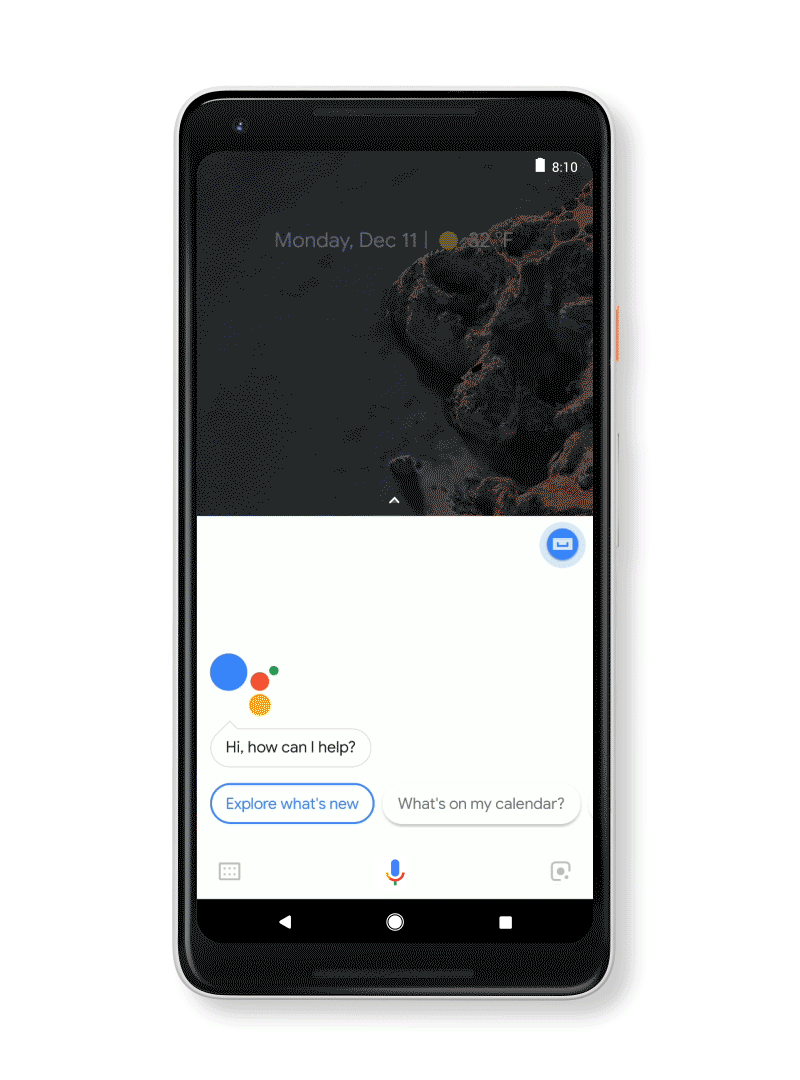 When we introduced the new Pixel 2 last month, we talked about how Google Lens builds on Google's advancements in computer vision and machine learning. When you combine that with the Google Assistant, which is built on many of the same technologies, you can get quick help with what you see. That means that you can learn more about what's in front of you—in real time—by selecting the Google Lens icon and tapping on what you're interested in.
Here are the key ways your Assistant and Google Lens can help you today:
Text: Save information from business cards, follow URLs, call phone numbers and navigate to addresses.
Landmarks: Explore a new city like a pro with your Assistant to help you recognize landmarks and learn about their history.
Art, books and movies: Learn more about a movie, from the trailer to reviews, right from the poster. Look up a book to see the rating and a short synopsis. Become a museum guru by quickly looking up an artist's info and more. You can even add events, like the movie release date or gallery opening, to your calendar right from Google Lens.
Barcodes: Quickly look up products by barcode, or scan QR codes, all with your Assistant.
Google Lens in the Assistant will be rolling out to all Pixel phones set to English in the U.S., U.K., Australia, Canada, India and Singapore over the coming weeks. Once you get the update, go to your Google Assistant on your phone and tap the Google Lens icon in the bottom right corner.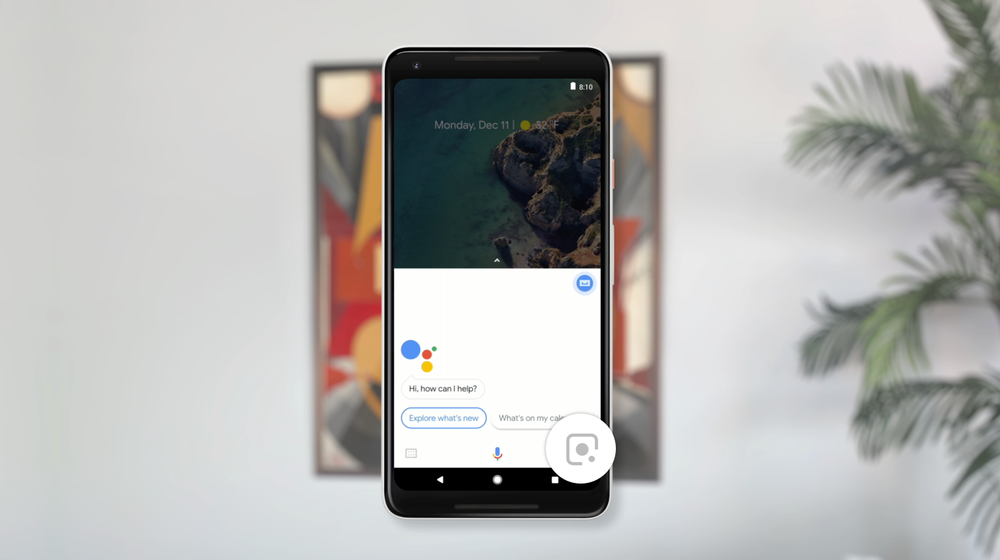 We can't wait to see how Google Lens helps you explore the world around you, with the help of your Google Assistant. And don't forget, Google Lens is also available in Google Photos, so even after you take a picture, you can continue to explore and get more information about what's in your photo.
Thanksgiving is just a few days away and, as always, your Google Assistant is ready to help. So while the turkey cooks and the family gathers, here are some questions to ask your Assistant.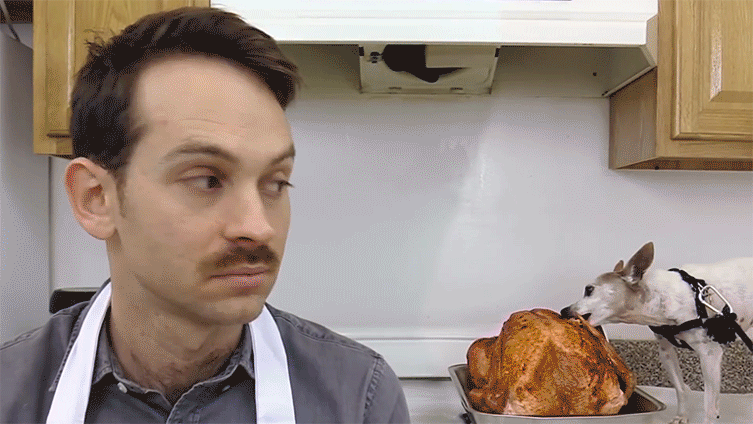 Show up to dinner on time: "Ok Google, how's traffic?"
Prepare accordingly: "Ok Google, set a turkey timer for 4 hours."
And don't forget dessert: "Ok Google, add apple pie and pumpkin pie to my shopping list"
Play a game while you wait for turkey: "Ok Google, play Thanksgiving Mad Libs"
Hear a funny tale: "Ok Google, tell me a turkey story"
Learn something new: "Ok Google, give me a fun fact about Thanksgiving"
When Thanksgiving's over, get ready for the next occasion: "Ok Google, play holiday music"
Happy Thanksgiving 🦃
From dinner bells to shouting, attempting to gather the family from around the house is nothing new. And now, your Google Assistant is getting in on the game.
Starting today, you can broadcast your voice from your Assistant on your phone or voice-activated speaker, like Google Home. So when you need to round up the family in the morning, just say "Ok Google, broadcast it's time for school!" and your message will broadcast to all Assistant enabled speakers in your home.
For certain everyday things like waking up, dinnertime or settling down for bed, the Assistant can also send a playful message on your behalf. Just say "Ok Google, broadcast it's dinner time" and a dinner bell will ring on all your Google Homes. 🔔 Now you don't have to wear out your voice shouting up the stairs.
And if you're just leaving the office, you can let your family know you're coming with a simple "Ok Google, broadcast I'm on my way home!" to the Assistant on your phone, and it will broadcast to your Google Homes. To ensure that broadcasting works across all your devices, make sure you're signed in with the same Google Account. See our help center to learn more.
Broadcasting starts rolling out today to the Assistant on phones and speakers set to English language in the U.S., Australia, Canada and the U.K., with more languages coming soon.
The Google Assistant is already available on phones in a number of languages around the world and this week we're adding a few new ones to the roster—Spanish in the U.S., Mexico and Spain as well as Italian in Italy. So now you can say "Ok Google" and ask the Assistant to play your favorite song, tell you about the weather, navigate home and more. Or try something fun and say "¿Ok Google, sabes nadar?"
Our goal is for the Assistant to be available to help you get things done, no matter what language you speak, what device you're using or what question you're asking. Today's update is another step in that direction, as these new languages join English in Australia, Canada, U.S. and U.K.; Portuguese in Brazil; French in Canada and France; German in Germany; Japanese in Japan; and Korean in Korea. Rolling out over the coming weeks, these new languages will soon automatically be available on eligible Android phones running Android 6.0 or higher with Google Play Services, and later in the year, they'll also be available on iPhones.
Ci sentiamo presto.
A few weeks ago we unveiled Google Home Mini, the newest addition to the Google Home family. About the size of a donut, it has all the smarts of the Google Assistant and gives you hands-free help in any room of your house. Starting today, you can grab it online from the Google Store or online or on shelves of Best Buy, Walmart, Target and other stores.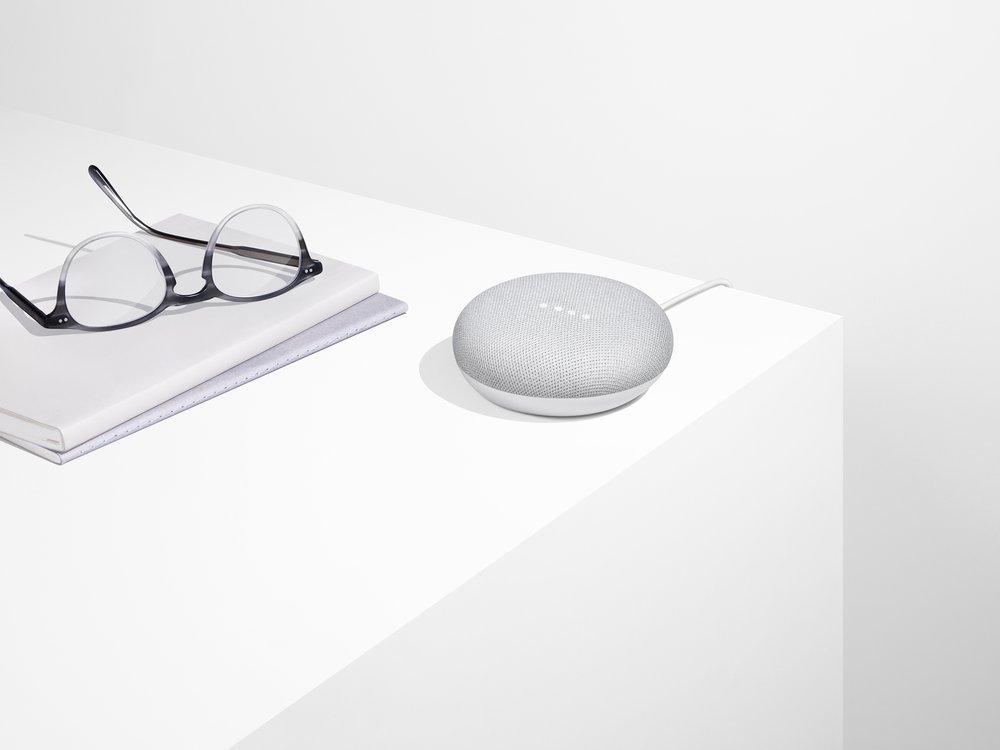 Just start with "Hey Google" to get answers from your Google Assistant, tackle your day, enjoy music or TV shows, and control your compatible smart home devices. And with Voice Match, the Assistant can tell your voice from others—up to six people can get personal assistance on each device.
Here are six fun things you can do with your Mini:
Find my phone: When you lose your phone in the couch cushions, your Assistant can find it for you. "Hey Google, find my phone" will ring your Android phone (even if it's on silent) or your iPhone.
Set a sleep timer: Fall asleep to the sweet sounds of your favorite music or podcast by saying, "Hey Google, set a sleep timer for 30 minutes."
Play news by voice on your TV: Stay on top of current events with YouTube news playlists from sources like ABC, Fox and NBC. With a Chromecast-connected TV, you can ask say: "Hey Google, play the news on my TV" or "Ok Google, play sports news on my TV."
Turn the TV on and off: With Google Home, Chromecast, and a compatible TV you can just say "Hey Google, turn off the TV."
Enable night mode: In night mode, Mini's lights dim and the volume lowers so that you you don't disturb others in your household when it's late (or early).
Set a default TV or speaker: Choose a Chromecast-connected TV to be your default screen, so you don't need to mention the device's name in your voice command. When you say "Play yoga videos," they'll play on the TV you've set as the default. It works the same way for speakers connected to Chromecast Audio—you can designate a group of speakers that cover several rooms ("first floor," for example) as the default. Then say "Hey Google, play workout playlist" and it will automatically start playing on that group of speakers.
You can start using these features today with any Google Home or Google Home Mini—and stay tuned for lots more to come!
It's Friday the 13th and just a couple weeks 'til Halloween. Whether you'd prefer to hand out candy, dress like a pirate or scare yourself silly, your Google Assistant can help you get in the spooky spirit: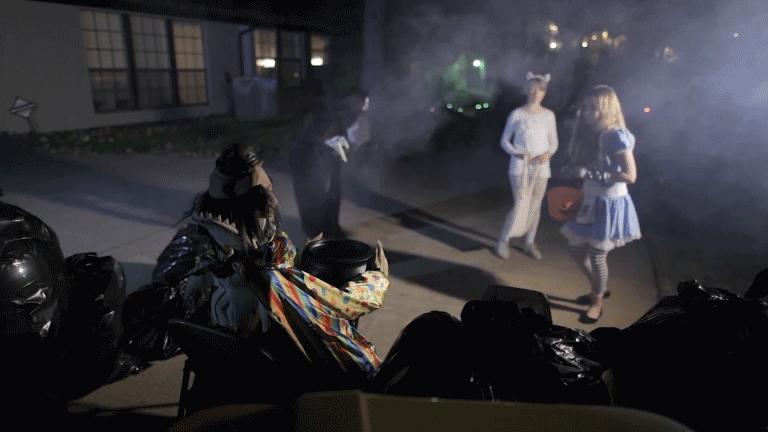 🤖 "Ok Google, what should I be for Halloween?"
🎃 "Ok Google, get directions to the nearest pumpkin patch"
👹 "Ok Google, how do I get rid of monsters?"
🍬 "Ok Google, add Halloween candy to my shopping list"
🙀 "Ok Google, scare me"
👻 "Ok Google, let's get spooky" (this one sets the Halloween vibe, with spooky music and flickering smart lights)
May all your Halloween dreams—or nightmares—come true. Happy (almost) Halloween!
We launched Google Express and shopping on the Google Assistant to help you shop your favorite stores, and today we're making it even easier with the expansion of Target–now available on Google Express nationwide. We're also bringing shopping with the Google Assistant to your phone.
Target, now nationwide
Starting today, you can shop Target from anywhere in the United States through Google Express and with the Google Assistant (except for Alaska and Hawaii). You'll be able to get and reorder your favorite Target items and brands, like Up & Up household essentials and Cat & Jack kids' clothing; Target will offer 2-day delivery, as well as free shipping for any orders over $35.
Be on the lookout for additional features that bring together the best of Google and Target in the coming year. For example, you'll be able to add your REDcard to Google Express to receive 5 percent off most Target orders, plus free shipping. Target customers will also be able to opt in to receive personalized recommendations and a quick re-order experience based on past Target purchases: so if you want more LaCroix sparkling water or Archer Farms trail mix, your Google Assistant will already know which size and variety you bought from Target last time.
Coming soon, shop with the Google Assistant on your phone
Over the past year, we've made it possible to shop with your Google Assistant across devices. On Google Home, you can order loads of Halloween candy and paper towels by voice when your hands are full in the kitchen. And for items like Halloween costumes when you need to browse and actually see what you're shopping for, you can now shop with your Assistant on your Android TV, and soon, on your eligible Android phone or iPhone. You'll be instantly connected to over 50 Google Express retailers—so if you're on the go and remember you need a birthday gift for the weekend, you can just say "Ok Google, buy a kids bomber jacket from Target."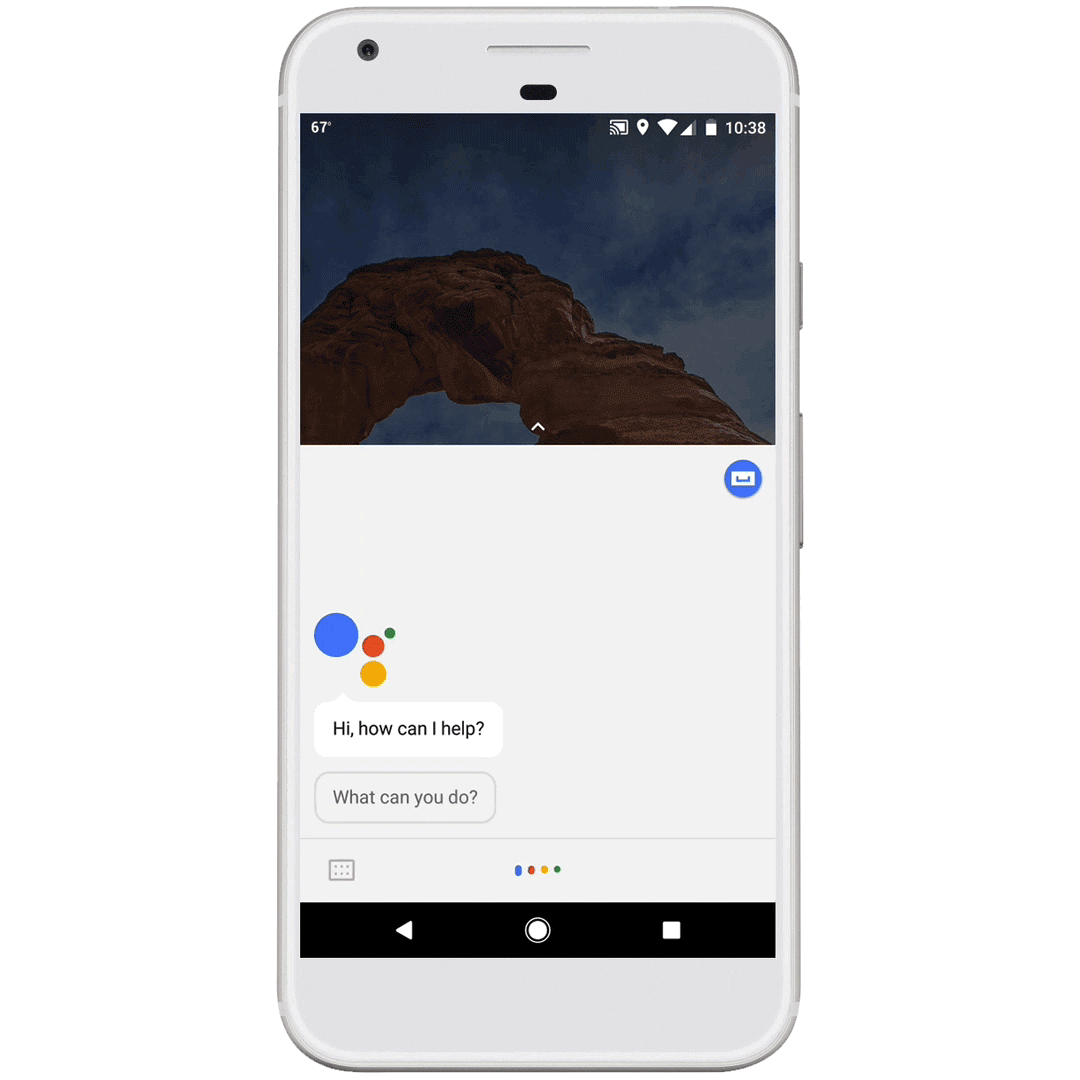 With Google Express and your Google Assistant, shopping is easier no matter where you are or what device you're using. So go ahead and stock up.
Today, we introduced our second generation family of consumer hardware products, all made by Google: new Pixel phones, Google Home Mini and Max, an all new Pixelbook, Google Clips hands-free camera, Google Pixel Buds, and an updated Daydream View headset. We see tremendous potential for devices to be helpful, make your life easier, and even get better over time when they're created at the intersection of hardware, software and advanced artificial intelligence (AI).
Why Google?
These days many devices—especially smartphones—look and act the same. That means in order to create a meaningful experience for users, we need a different approach. A year ago, Sundar outlined his vision of how AI would change how people would use computers. And in fact, AI is already transforming what Google's products can do in the real world. For example, swipe typing has been around for a while, but AI lets people use Gboard to swipe-type in two languages at once. Google Maps uses AI to figure out what the parking is like at your destination and suggest alternative spots before you've even put your foot on the gas. But, for this wave of computing to reach new breakthroughs, we have to build software and hardware that can bring more of the potential of AI into reality—which is what we've set out to do with this year's new family of products.
Hardware, built from the inside out
We've designed and built our latest hardware products around a few core tenets. First and foremost, we want them to be radically helpful. They're fast, they're there when you need them, and they're simple to use. Second, everything is designed for you, so that the technology doesn't get in they way and instead blends into your lifestyle. Lastly, by creating hardware with AI at the core, our products can improve over time. They're constantly getting better and faster through automatic software updates. And they're designed to learn from you, so you'll notice features—like the Google Assistant—get smarter and more assistive the more you interact with them.
You'll see this reflected in our 2017 lineup of new Made by Google products:
Assistant, everywhere
Across all these devices, you can interact with the Google Assistant any way you want—talk to it with your Google Home or your Pixel Buds, squeeze your Pixel 2, or use your Pixelbook's Assistant key or circle things on your screen with the Pixelbook Pen. Wherever you are, and on any device with the Assistant, you can connect to the information you need and get help with the tasks to get you through your day. No other assistive technology comes close, and it continues to get better every day.
Google's hardware business is just getting started, and we're committed to building and investing for the long run. We couldn't be more excited to introduce you to our second-generation family of products that truly brings together the best of Google software, thoughtfully designed hardware with cutting-edge AI. We hope you enjoy using them as much as we do.
Today we introduced Google Home Mini and Google Home Max, a new Pixel phone, a new Pixelbook and Pixelbook Pen, and Pixel Buds. Something all of these products have in common is the Google Assistant. With new Assistant features throughout the entire line-up, they're built with the Assistant in mind, ready to help you get more done.
But let's take a step back. Exactly one year ago today, we first introduced the Google Assistant, which lets you have a natural conversation with Google. We said the Assistant should be helpful, simple to use, available where you need it and that it should understand your context—location, device you're using, etc. And that's exactly what we've been working toward. So before diving into what's new today, let's take a look at some of our highlights from the past year:
Hardware that works with your Assistant—Android phones, iPhones, headphones, voice-activated speakers like Google Home and others from several manufacturers, Android Wear and Android TV.
Your Assistant in more languages and places—Google Home in the U.K., Canada (English and French), Australia, Germany, France and, today, Japan. The Assistant on eligible Android phones and iPhones is also available in Brazilian Portuguese, Japanese, Korean and, coming soon, Italian, Spanish (in Mexico and Spain) and Singaporean English.
Smart home devices and platforms that work with your Assistant—you can now control over 1,000 smart home products from more than 100 brands, including August Home, Logitech Harmony, Nest, Philips Hue, SmartThings and Wemo.
Features to make your Assistant better—we've introduced Hands-Free Calling, reminders, shopping, shortcuts, step-by-step instructions to millions of recipes, and more. And of course Voice Match, which enables different household members to get personalized help on a shared device. So when you ask a question, the Assistant can recognize it's your voice and respond with your news preferences, calendar, commute, and reminders. Starting today, Voice Match will be available in every country where Google Home is available (U.S., U.K., Australia, Canada, France, Germany and Japan).
We've come a long way in the past year, but we're even more excited about what's still in store, starting with what we're announcing today. Here's a look at what's coming over the next few months:
Choose a new voice: The Assistant now has two voice options, starting in the U.S., so you can choose a voice that's right for you. Try it today by going to settings in your Google Home app or Google Assistant on your phone and navigating to preferences.
Spend time with family: The Assistant will soon have more than 50 new ways for families to have fun, and with support for kids' accounts managed with Family Link already on Android phones and coming to Google Home, you can have fun whether you're on the go or at home. Soon, you'll be able to say "Ok Google, let's play a game" and go on an adventure with Mickey Mouse, identify your alter ego with Justice League D.C. Super Hero, or play Freeze Dance in your living room. You can learn by saying "Let's learn" and then quiz yourself with games like "Talk Like a Chef" or "Play Space Trivia." When it's time for bed, try saying "Ok Google, tell me a story" to hear classics like Snow White and original stories like "The Chef Who Loved Potatoes."
Manage your routines: Your Assistant will soon be able to help you manage your daily routines across your devices. So, once you've set up your preferences, when you say "Ok Google, let's go home" your Assistant can update you about your commute, text your partner that you're on your way and play your podcast where you left off. And when you get home, just say "Ok Google, I'm home," and it will turn on the lights, adjust to your desired temperature and share your reminders.
Transactions: Over the next week, you'll also be able make fast and easy purchases with your Assistant, starting with 1-800-Flowers, Applebee's, Panera and Ticketmaster. So you'll be able to say, "Ok Google, talk to Ticketmaster" to your Assistant on your phone to find and buy your tickets.
Broadcast: With the new broadcast feature, your Assistant can round up the family and announce to Google Homes around the house that it's dinner time. Just say, "Ok Google, broadcast: come on upstairs for dinner in 5 minutes." The best part—you can even broadcast from your phone to Google Home with your Assistant. Just say "Ok Google, broadcast: I'm on my way!"
Explore with Google Lens: We're bringing an early preview of Google Lens to Pixel phones. At the start you'll be able to look up landmarks, books, music albums, movies, and artwork, by tapping on the Lens icon in Google Photos. Over the next few weeks, we'll add more capabilities, as well as the ability to use Lens in the Google Assistant. With the Assistant, it will provide a conversational experience for quick help with what you see, right in the moment.
Get things done with Pixelbook and Pixelbook Pen: On Pixelbook, your Assistant can help you send a quick email, create a new doc or get the details of your next calendar event. And with Pixelbook Pen, you can circle text or images on your screen to get more information or take action. Looking at a photo and wondering where the beautiful mountainscape is located? Circle it and let your Assistant do the rest.
On the go with Pixel Buds: Pixel Buds are optimized for the Google Assistant on Android phones, so you can play music, have notifications read to you, get directions or set a reminder, all without looking at your phone.
Control your smart home with Nest: With Nest Camera, you can say "Ok Google, show me the entryway on my TV" to your Assistant on Google Home and keep up with what's going on in your home. Coming next year, with the Familiar Faces feature on Nest Hello, when the doorbell rings and Nest Hello recognizes the person at the door, it will automatically have the Assistant broadcast that information to all the Google Home devices in the house. So you can know who's there right when they arrive.
So that's what's new with the Assistant. We're continuing to make it more helpful and more available on new devices—whether you're at home, on the go or somewhere in between—and in new languages and countries.
With all of the improvements built up over the past year, the Assistant can help you get more done and give you more time to focus on what matters. And we're excited about what the future holds—with our expertise in natural language understanding, deep learning, computer vision, and understanding context, your Assistant will just keep getting better. Over time, we believe the Assistant has the potential to transform how we use technology—not only by understanding you better but also by giving you one, easy-to-use and understandable way to interact with it. All you have to do is say "Ok Google" to get help from your own personal Google.
Your Google Assistant is now available on Android TV, starting with NVIDIA SHIELD TV today and Sony Bravia TVs in the coming months.
With your Assistant on Android TV, you can jump right into your favorite show, find the latest blockbuster, check the score of the big game, dim the lights and more— all with just your voice. To get started, accept the Google Assistant system update on your SHIELD and press your remote's mic button after the device restarts. From there, you're ready to sit back and relax with the help of your Assistant.
Here are some ways your Assistant can help you on the big screen:
"Play Game of Thrones"— your Assistant can play a wide variety of content, from movies and TV shows to YouTube clips and music. With HBO NOW, Netflix and YouTube, you can instantly watch something by asking for it by name or, if you aren't sure what to watch, try "show me movies about climbing Mount Everest." You can also ask your Assistant to "play some music" or listen to a specific song on YouTube Music, Google Play Music, Spotify or Pandora.
"Play business news"— catch up on what's going on in the news, from business to tech to entertainment. And once you're caught up, prepare for your own day by asking "what's on my agenda for today?"
"Talk to Fitstar"— apps for the Google Assistant are also now available on Android TV, so you can talk to Fitstar for a quick home workout, Tender for a cocktail recommendation, Wall Street Journal for a market update and more.
"Order more popcorn"— stock up on binge-watching snacks right from the comfort of your couch. With Google Express, you can shop and reorder from Walgreens, Walmart and many other stores.
"Turn off"— it's as simple as that. With your Assistant on Android TV you can turn up the volume, pause, control your smart home devices and more, just with your voice.
Also, to celebrate the arrival of the Google Assistant on Android TV, we're offering a free three month YouTube Red trial on SHIELD, so you can watch ad-free videos and listen to uninterrupted music with your Assistant (try saying "play 4K videos on YouTube").
Starting today, SHIELD users in the U.S. can upgrade their TV experience with the Google Assistant. So dim the lights, order some popcorn and dive into your favorite shows.
Football season is officially underway and your Google Assistant is ready to help you keep up with your favorite teams. With your Assistant on your phone or Google Home, start with "Ok Google" and…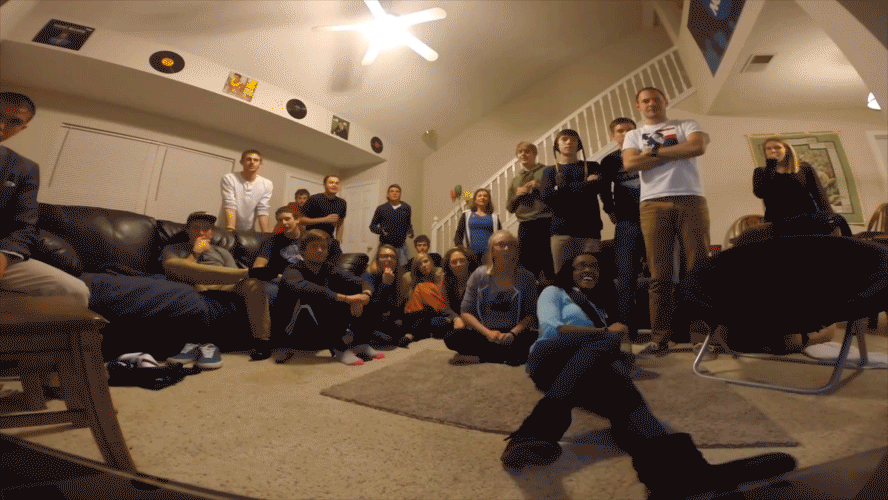 Stock up on the essentials by asking your Assistant to "Add chips and dip to my shopping list"
Ask your Assistant about the competition: "Who does [insert your 🏈 team] play on Sunday?"
Prepare for the game: "What's the weather in Chicago going to be like today?"
Double check the game date: "When does [insert your 🏈 team] play again?"
Get to know your Assistant by asking "Who's your favorite football team?"
Ready, set, hut.
Your Assistant is already available to help on phones, speakers and more. But sometimes you need something a bit more personal, just for you to hear. And that's where headphones come into play. Like when you're commuting on the train or reading at home. It would be nice to get on-the-go help from your Assistant, without glancing at your phone.
To help with those "in between" moments, together with Bose, we're announcing headphones that are optimized for the Assistant, starting with the QC35 II. So now, you can keep up to date on your messages, music and more—with headphones that you've paired with your eligible Android phone or iPhone.
To get started, connect your QC 35 II headphones to your phone via Bluetooth, open your Google Assistant app and follow the instructions. From there, your Assistant is just a button away—push (and hold) the Action button on your headphones to easily and quickly talk to your Assistant.
Stay connected to what matters: Hear your incoming messages, calendar events and more, automatically, right from your headphones. So if you're listening to your favorite song and you get a text, your Assistant can read it to you, no extra steps.
Listen to music, news and more: Now it's easier to access a playlist, skip a track or go to a new song when you're listening to music—and the music experience will continue to get better over time. You can also keep up with news while you take walk, jump in a cab or go for a run. Just ask your Assistant to "play the news" and you'll get a read-out of the current hot topics. You can choose from a variety of news sources, like CNBC, CNN, NPR and others.
Keep in touch with friends: You can make a call with just a few simple words—"Call dad"—take the call from your headphones and continue on your way. No stopping or dialing, just talking.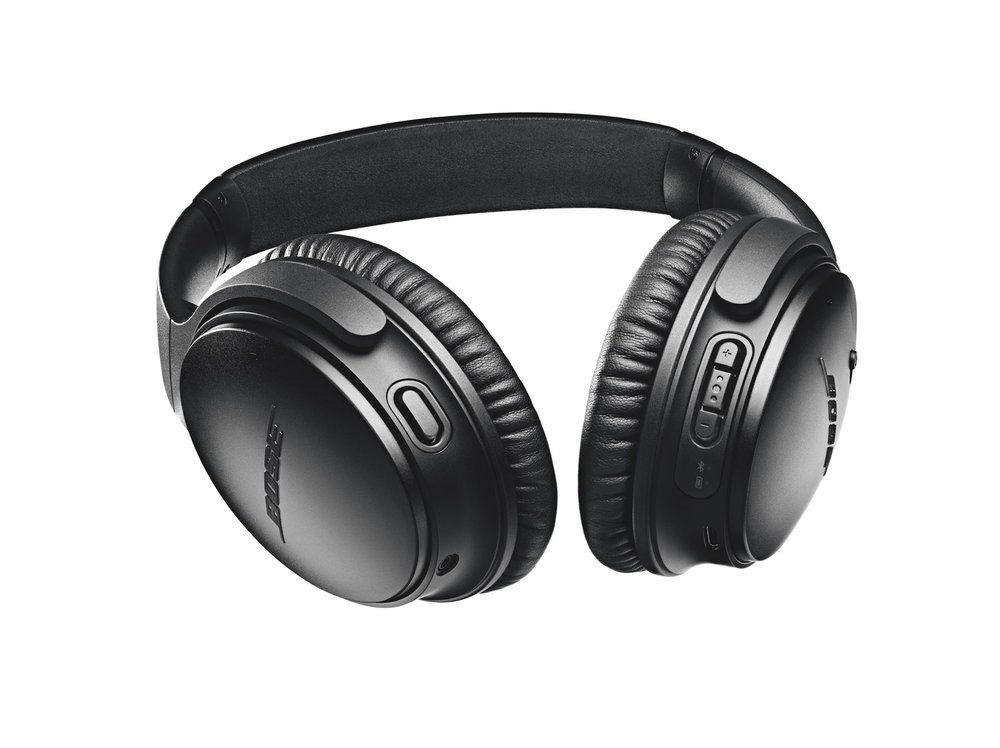 We've worked together with Bose to create a great Assistant experience on the QC35 II—whether you're on a crowded street or squished on a bus, Bose's active noise cancellation will help eliminate unwanted sounds around you, so you're able to hear your Assistant, your music and more. The Assistant on the QC35 II will be available in the U.S., Australia, Canada, Germany, France and the U.K.
---