India has the second largest population of internet users in the world—and it's only getting bigger. Around 40 million new users come online in India every year, and not just from metropolitan centers, but increasingly from rural areas as well. And they're no longer predominantly men: in the next three years, we expect 45 percent of internet users in India to be women. This rush of new users online has greatly transformed the Indian economy and culture, from the rise of local startups to the growing use of e-commerce, digital payments, ride sharing, and online video by people from Jammu to Thiruvananthapuram.
Sometimes technology can help in extraordinary circumstances. India has gone online to rally behind the victims of the Kerala and Karnataka floods. Our Crisis Response team turned on SOS alerts on Google Search in English and Malayalam, and activated Person Finder to help people search for family and friends. Locations of flood relief resources like shelters are being shared on Google Maps. Outside of the tech support, Google.org and Googlers are contributing over $1 million to support relief and recovery efforts. And others can also donate to Kerala flood relief on Tez.
Technology is a key tool in crises, but it's also critical for supporting India's ongoing national momentum. In this spirit, we made announcements at this year's Google for India event, towards three goals: making the internet work for more Indians, making our products more relevant to Indians, and taking the best of India to the rest of the world.
Making the internet work for more Indians
The first internet users in India consumed English-language content on their PCs, and later, their high-end smartphones. Today, however, there is a generation of internet users with completely different needs—where their first and only internet experience is via a touchscreen and not a keyboard. We have a responsibility to make sure that our products work well for every one of these users.
The first step is to provide more high-quality internet access. Google Station is partnering Andhra Pradesh State FiberNet Limited to cover over 12,000 villages, towns and cities in the state of Andhra Pradesh, potentially reaching 10 million people. This will provide high-quality internet access to areas that have never been connected before, from hospitals to villages.
The second is to help improve the smartphone experience in India. Our Indian hardware partners on Android such as Micromax, Lava, Nokia and Transsion are creating Android (Go edition) phones at prices within reach of more Indians. Early next month Samsung will continue that momentum with the launch of its first ever Android (Go edition) device, the Galaxy J2 Core.
Many of India's new internet users favor listening and speaking over reading text. That's why we're launching a new feature in Google Go that lets you listen to webpages. Powered by natural language processing and speech synthesis AI, this technology can read billions of webpages smoothly in a natural sounding voice. It supports 28 languages, including Hindi, Bengali, Malayalam, Marathi and Tamil—even on 2G connections.
Making our products more relevant to Indians
The majority of internet users in India today are Indian language users, and this number is expected to reach 500 million in the next two years. Smartphones are not useful unless they work in people's primary language and provide access to great content in their native tongues.
To that goal, we are working with Indian language publishers to bring more relevant content online. Right now, the amount of online content in Indian languages is only 1 percent of what's available in English. So we've started a project called Navlekhā, a word derived from Sanskrit meaning "a new way to write." This project comprises a tool that uses AI to render any PDF containing Indian language content into editable text, making it easy for print publishers to create mobile-friendly web content. It also provides Indian language publishers with free web hosting with AdSense support, so they can immediately start monetizing their content. Publishers will also receive training and support, and a branded .page domain for the first three years. Navlekhā has already started onboarding publishers from Delhi, and we aim to welcome many more from other regions in September. Sign up for the program at g.co/navlekha.
We're also expanding the number of languages supported in our existing apps and services. The Search feed will now display your favourite news from both English and Hindi sources, using AI that learns which types of stories you like best. On the Google Assistant, we're adding Marathi (with seven more Indian languages coming soon) and even more Indian apps—like Where Is My Train, Airtel, and Hello English—making them available through the convenience of voice control.
We're creating more locally relevant experiences for Indians as well. Google Maps Go now brings turn-by-turn navigation functionality, while incorporating a brand new home screen with handy shortcuts. Google Maps will now also deliver better guidance to public transport riders, informing them of upcoming stops and sending alerts when it's time to get off. And thanks to our new partnership with RedBus—India's largest inter-city bus ticketing service—more than 20,000 inter-city bus routes in 1,500 cities will be added to Google Maps.
Taking the best of India to the rest of the world
Since launching our India-first payments app Tez last September, over 22 million people and businesses have used Tez to make over 750 million transactions that are collectively worth over $30 billion annually. We believe that many of the innovations and features we have pioneered with Tez will work in other countries. To take Tez beyond India, we will be unifying all of Google's payment offerings globally. As a first step, Tez will now be called Google Pay.
Other than the name, the app is staying the same with all the great features and functions you enjoy. Sending a gift with a Happy Birthday spark, or paying a merchant directly from your bank account with no fees is as quick and easy as ever. In the coming weeks, we'll be making Google Pay even more useful by increasing the number of places you can use it in, expanding services for merchants, and working with banks to provide instant loans to Google Pay users.
These are just a few things we're working on to make sure that Indians have a great experience online, no matter what phone they're on or what language they speak. We thank all the Indians who watch and upload videos on YouTube, navigate on Google Maps, use Google Pay, and Search for the information they need. By working hard to make your experience better, we're also building better products for the world.
We started building our first Southeast Asia data center in Singapore back in 2011, expanding quickly to a second building in 2015 due to the rapid growth in users and usage in the region.
The pace hasn't slowed. In the three years since our last update, more than 70 million people in Southeast Asia have gotten online for the first time, bringing the region's total to more than 330 million–that's more than the population of the United States.
More businesses are getting online too, so demand for our expanding Google Cloud Platform (GCP) offerings has grown quickly. Since first opening ourGCP region in Singapore last year, companies like Singapore Airlines, Ninjavan and Wego have joined the likes of GO-JEK and Carousell, using GCP to serve their customers globally.
To keep up with that demand, we're starting work on a third facility in Singapore. Located in Jurong West, just down the road from our first two buildings (Singapore's not a very large place), and looking something like the rendering below, this expansion will bring our long-term investment in Singapore data centers to USD $850 million.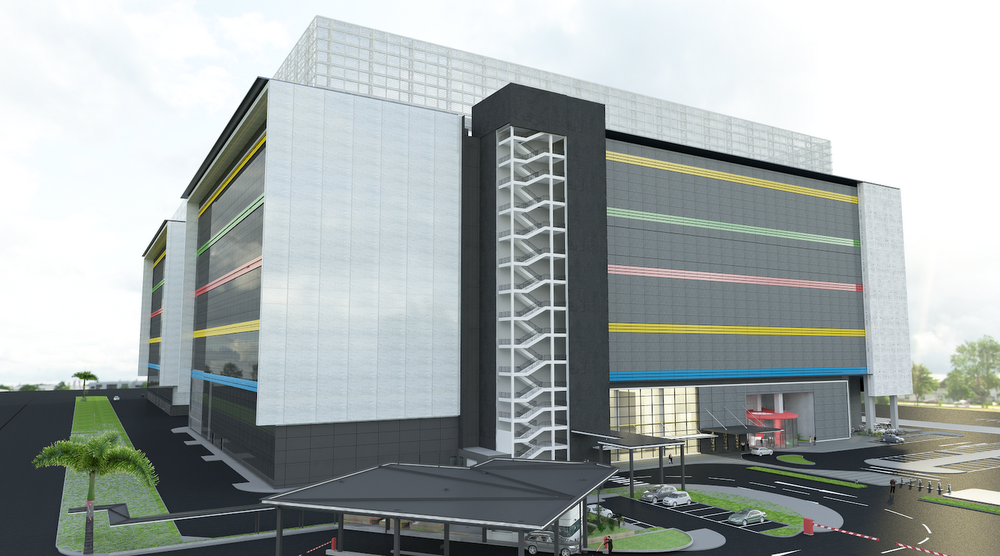 The multi-story facility will be one of the most efficient and environmentally friendly sites in Asia, in line with our global approach. It will feature the latest machine learning technology to reduce energy use. And we will use recycled water, diverting 100 percent of the data center's waste away from landfill.
Our first Google data center opened in 2015 in Singapore

A top down image of our Singapore data center facilities

One of our data center facilities specialists catching up on work in a space-themed common area

Google data center technician Haikal at work
We're looking forward to growing our small team at the data centers here, as well as expanding our ties with the local community. Data center Googlers like Haikal Fadly have been helping out with STEM workshops at the nearby Zhenghua Secondary School. Back in December we did a "Walk for Rice" hosted by the St Joseph's Home for the Aged (our team on the walk below).
And we're always on the lookout to contribute to nonprofits with good ideas for benefiting the community. So I'd like to encourage community organizations and registered nonprofits in Singapore seeking funding to reach out to us to learn more and apply for our annual grants program, with the applications window opening today.
Editor's note: Nicola Hazell is one of Australia's leading voices on gender equality and social innovation. She is the Chief Innovation Officer and creator of the award-winning SheStarts program at Australia's largest startup accelerator BlueChilli. Since SheStarts launched in 2016, the program has reached hundreds of women across Australia and invested in two cohorts of incredible female founders who lead businesses in a range of industries, including smart cities, finance and health.
Today, our SheStarts community becomes part of the Google for Entrepreneurs' global partner network, a community supporting startups that includes dozens of co-working spaces and programs across 140 countries. Through this partnership, Google for Entrepreneurs will empower SheStarts founders with the best of Google's resources—which includes executive mentoring, as well as programming and technical support to help to kickstart their entrepreneurial journey and lead successful, global-minded tech startups.
It's an honour to have Senator the Honourable Michaelia Cash, Australia's Minister for Jobs and Innovation, join us today for our Google for Entrepreneurs partnership launch at Fishburners— Australia's largest non-profit dedicated to supporting startups, and a fellow partner in the Googlefor Entrepreneurs network—to celebrate this important milestone for women and all entrepreneurs alike.
We are living in an era when technology provides the vehicle to create lasting change at a global scale. But the possibilities of technology and innovation will never be truly realised if we're missing out on the ideas and creativity of half the population. This is why SheStarts exists—to ensure women have the opportunity to unleash their talent and passion on the world, and to demonstrate that you don't have to be a man in a hoodie and sneakers to make a big impact in the startup economy.
SheStarts provides founders with access to capital, engineering talent, world-class training and a global network of mentors and advisors backing them to succeed. The program supports founders as they take their startups from idea to launch, working with them to build and test their technology, to land major national and international partnerships, and grow their companies as they secure millions of dollars in investment. These emerging leaders have now attracted great teams into their businesses—creating exciting new jobs within Australia's economy and redefining what it means to be a tech entrepreneur.
As Australia's only corporate and venture-backed accelerator designed specifically for female-led startups, our goal is to significantly grow the number of women leaders in the tech industry. We work in close collaboration with organisations across the ecosystem—including the wonderful coworking community at Fishburners, led by an empowering and passionate female CEO, Pandora Shelley—as we build support for female founders, together.
We're making progress, but there is still much work to do. According to the most recent Startup Muster Report, women represent only one in four startup founders in Australia. What's more, access to investment remains a huge barrier for female founders, with less than 5 percent of venture capital going to female-led startups.
With the support of SheStarts, startups like BindiMaps (an indoor navigation app for the visually impaired), Neighbourlytics (a social analytics platform for neighbourhoods, pioneering the use of social data in cities) and Longevity App (a micro-savings app that boosts a user's retirement savings every time they spend) are flourishing—and changing the industry's gender ratio in the process.
Backing female-led startups is an investment in a better future and the growing global support for our founders in SheStarts demonstrates this. In May this year, the World Bank announced that globally, countries are losing $160 trillion in wealth because of the earnings gap between men and women over their lifetime. Meanwhile, international research continues to make the case for women in tech leadership, finding that female-led tech companies are more capital-efficient, achieve higher return on investment and bring in higher revenue than male-owned tech companies. Gender equality is not just a nice-to-have, it's a global economic imperative.
Pandora, Sally-Ann & Nicola.JPG

Collaboration is key! Left to right: Pandora Shelley from Fishburners, Sally-Anne Williams from Google, and Nicola Hazell from SheStarts are working together to change the gender ratio in tech.

SheStarts 1 at Google MTV.JPG

Members of the inaugural SheStarts cohort during their visit to Google's office in Mountain View in 2017.

shestarts-Nicola Hazell.jpeg

Nicola Hazell from SheStarts at BlueChilli, announcing the first cohort of female founders selected for the accelerator in 2016.

The second cohort of SheStarts founders taking part in a workshop at BlueChilli with Google's Sally-Ann Williams in February this year.
Through our partnership with Google for Entrepreneurs, SheStarts' founders in Australia will have the opportunity to connect with experts, investors, and women across the world, shedding light on a new wave of leadership that is redefining what it means to be a tech entrepreneur. We couldn't be more excited to embark on this journey together with Google.
One of the Indonesian batik fabric designs sold at Batik Njawani

Editor's note: As part of our series of interviews with people across Asia-Pacific who use the Internet as a tool to connect, create and grow, we spoke with Jajang Nurzamzam, the owner of Batik Njawani, an Indonesian handicrafts store. The internet has helped Jajang grow his business and provide a livelihood for 10 Indonesian artisans that make the products he sells.
Tell us about yourself and Batik Njawani.
Actually, Batik Njawani was established by my wife's family. Growing up, I never thought I would manage a business. After I graduated from vocational school, my first job was as a sales representative for a financial services company. When I married my wife, I decided to help her with the family business. You could say that I only became an entrepreneur by marriage!
Batik Njawani specializes in Indonesian handicrafts. We source our handmade products from craftspeople in Yogyakarta, which is a well-known center for Javanese culture and artisans in Indonesia.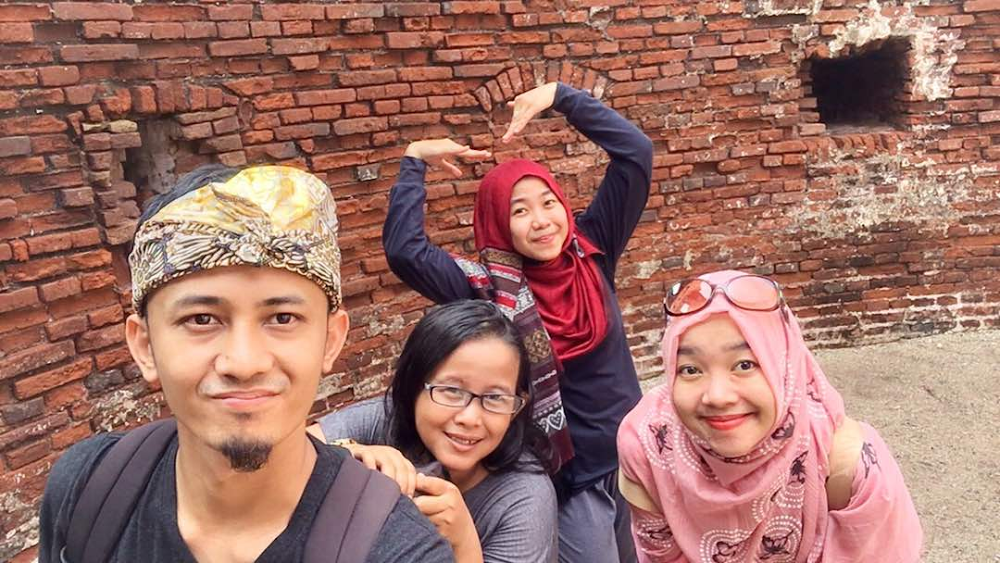 Why did you decide to create an online presence for your business?
It can be hard to stand out from the crowd when there are so many handicraft shops in Indonesia. Before going online, our business relied on a few customers who were familiar with us. If they didn't place orders, there were no sales! This was stressful for us, not to mention the artisans who depended on our shop to make a living.
I had absolutely no experience in marketing, but I was determined to find a more sustainable business model. So I used Google Search to find out how I could get more customers. That's how I discovered Google My Business. I registered Batik Njawani, and posted some photos and location details of it online with just a few taps on my mobile phone. I was surprised by how easy it was to create an online presence!
How has being online changed your business?
The impact has been tremendous. Demand for our products has taken off. After we established our Google My Business listing, an order was placed for 6,000 key chains and 6,000 hair pieces for an international arts festival in Belgium. It was our first international customer and we were incredibly excited to deliver our first export. Today, online orders make up about half of our sales.
The Internet has helped us build a community of customers and craftspeople. Our online presence provides a steady stream of customers, which in turn lets us keep our artisans in steady employment. The Internet helps us build trust with potential customers who are unfamiliar with our brand, but are reassured by the positive reviews they read on Google My Business.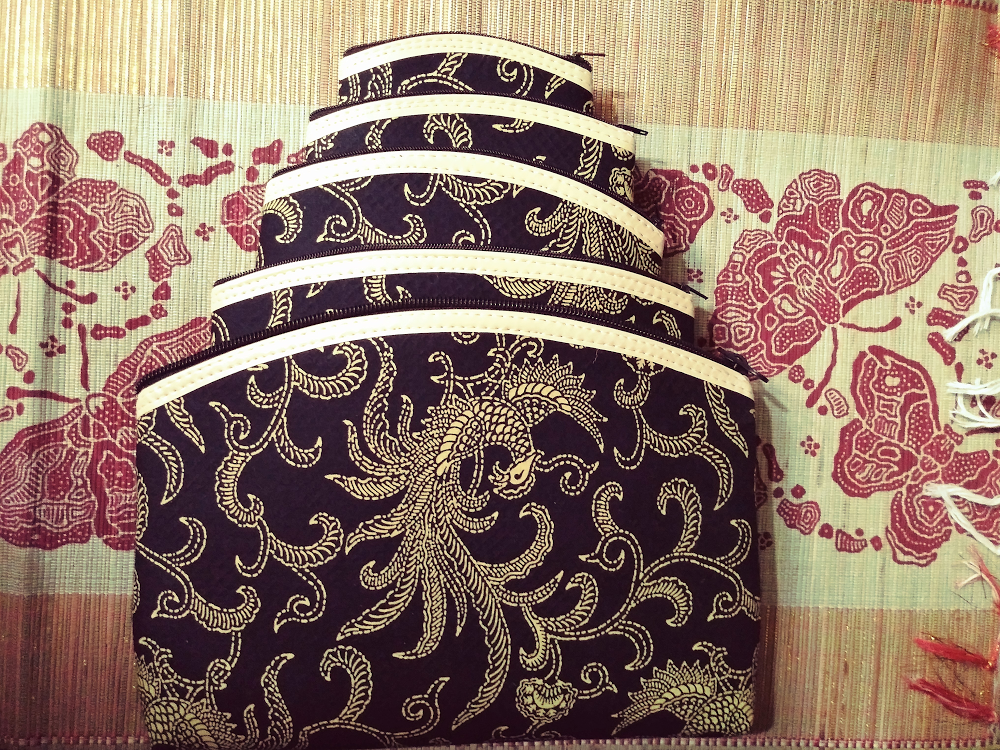 What's next for your business?
The demand created by online orders allows us to employ 10 artisans in Yogyakarta. They gain a predictable source of income that lets them support their families. Besides a growing business, the real reward is knowing that our work allows them to continue with their traditional craft-making, which helps to preserve and promote Indonesian culture. As our business expands, we hope to be able to support more of our local artisans. I also hope to introduce Indonesian culture to the world by exporting more of our handicrafts.
This week we're looking at how the Google News Lab is working with news organizations to build the future of journalism. So far, we shared how the News Lab works with newsrooms to address industry challenges and use emerging technologies. Today, we'll take a look at the News Lab's global footprint and its efforts to fuel innovation in newsrooms across the world.
Technology continues to change how journalists across the world report and tell stories. But how technology shapes journalism varies from region to region. This past year our team, the Google News Lab, conducted in-person trainings for journalists across 52 countries. Today, we take a look at the unique challenges of newsrooms in the regions we serve and how we've adapted our mission for each region to help build the future of journalism.
Europe
In Europe, it's been another big year for politics with major general elections taking place in the Netherlands, France, UK, Germany and Norway. We wanted to ensure we were helping newsrooms cover these critical moments with the accuracy and depth they required. So, our efforts across these countries focused on helping newsrooms verify digital content in a timely fashion and providing training in digital skills for journalists.
We helped the First Draft Coalition pioneer new collaborative reporting models to combat misinformation and verify news stories during the UK, French, and German elections. In France, we supported First Draft's launch of CrossCheck; a collaboration among 37 newsrooms to verify or debunk online stories during the election. In the build up to the elections in the UK and Germany, we also supported fact-checking organizations Full Fact and Correctiv to help newsrooms identify new sources of information. These initiatives helped more than 500 European journalists verify content online and debunk 267 inaccurate stories shared on social during the French and German elections.
Journalists across Europe used Google Trends to help visualize big political stories—here's a peek at what they did.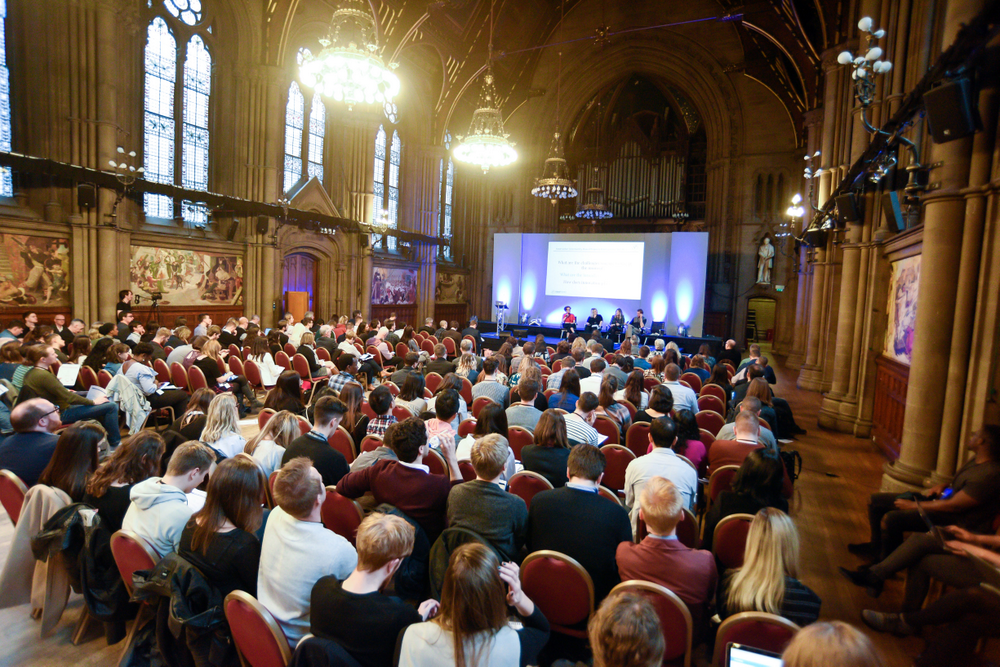 We continued to ramp up our efforts to train European journalists digital skills. We worked with The European Journalism Centre on the latest series of the News Impact Summit, providing large-scale training events on news gathering and storytelling, combined with design-thinking workshops for journalists in Rome, Hamburg, Budapest, Manchester and Brussels. And our partnership with Netzwerk Medien-Trainer has provided over a thousand journalists across northern Europe with expert training on data journalism, verification and mapping.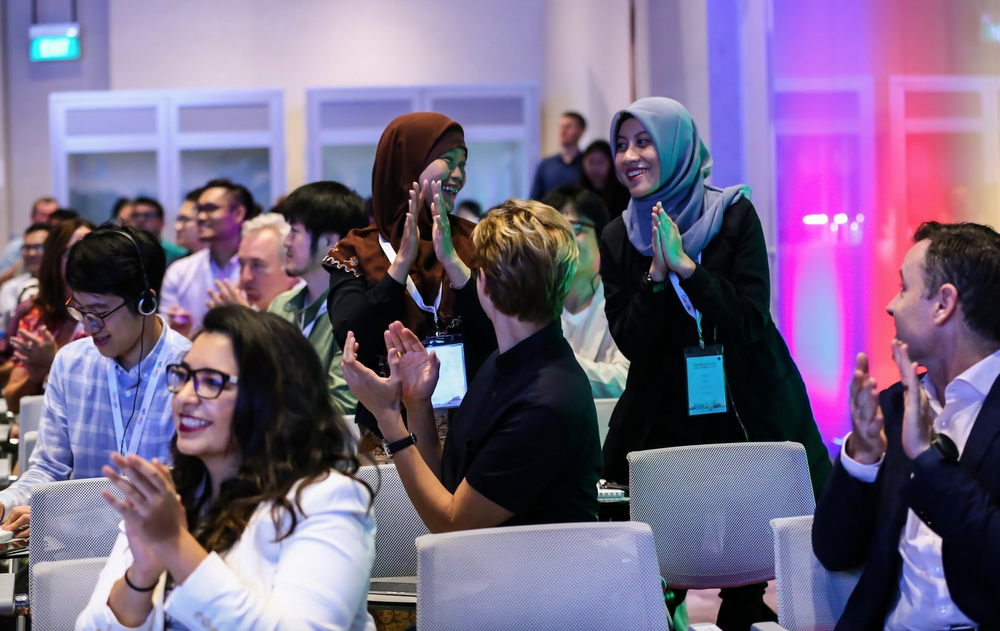 This year, we expanded our training and programs to the Asia Pacific, where we've tailored our approach to meet the specific needs of journalists across this diverse landscape. In a part of the world that is largely mobile-first (or mobile-only) and chat apps are the norm, there are a unique set of opportunities and challenges for newsrooms.
In July, our first News Lab APAC Summit welcomed 180 guests from 150 news organizations across 15 countries to our offices in Singapore. Product specialists and experts from newsrooms across the region came together to share best practices, learn about emerging technologies, and engage in open dialogue on challenges critical to the news industry.
In India, our Teaching Fellow has provided training and support to around 4K journalists and journalism students across the country. Our partnership with the Digital Identities team helped journalists in New Delhi experiment and engage new audiences with their stories.
Working in partnership with News Lab, the South China Morning Post released an immersive virtual reality project to depict the changing landscape of Hong Kong over 170 years of history.
We're working to support research projects that tackle industry challenges – working with Media Diversity Australia to quantify issues of diversity and representation in the Australian news organizations, while in South Korea we're supporting a study about the use of chat apps and their role in the news ecosystem.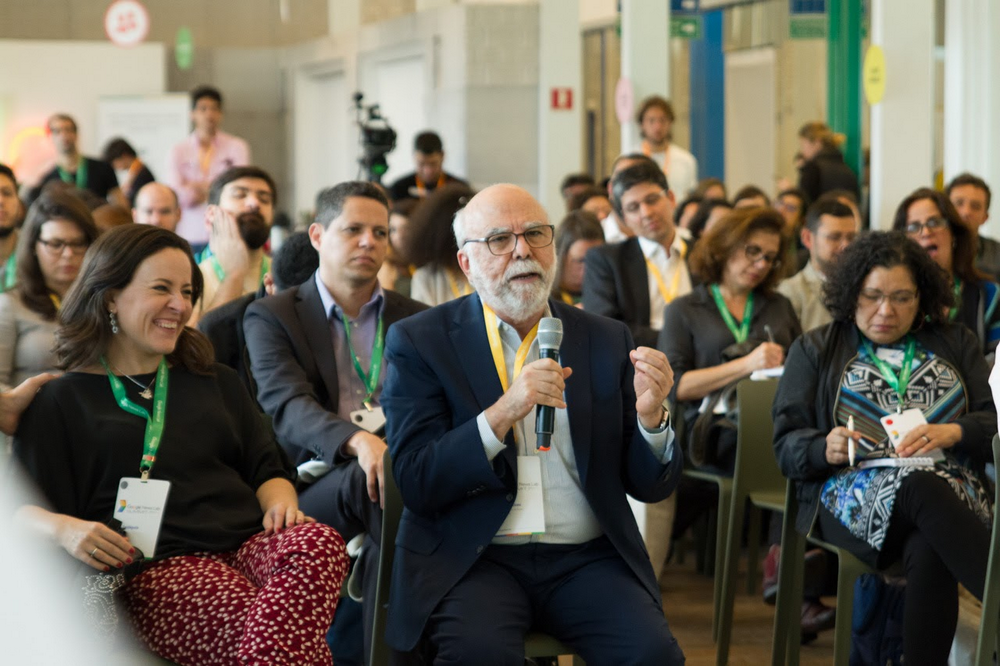 Working with journalists across Latin America, we elevated new voices beyond traditional newsrooms, and helped established journalists experiment with new technology and research. In Brazil alone there are an estimated 139 million Internet users, providing a huge opportunity for news organizations to experiment and test new formats.
We hosted the first Google News Lab Summit in LatAm Google's HQ in São Paulo, which convened 115 journalists from across Brazil. Attendees from 71 organizations heard from product managers and industry experts about data journalism, immersive storytelling and verification.
Impacto.jo, an experimental project in Brazil supported by the News Lab, helps journalists track the social impact of their reporting. As a part of the project, six organizations including Nexo Jornal, Folha de S. Paulo, Veja, Gazeta do Povo, Nova Escola and Projor will each track the public response and social reaction to their stories.
In Brazil, we brought 300 journalists to a first-of-its-kind independent journalism festival in Rio de Janeiro to share ideas on how to engage audiences online with original journalism.
Our Teaching Fellows based in Buenos Aires and Mexico City have travelled beyond Argentina and Mexico to provide 75 workshops in Chile, Colombia, Costa Rica, Panama, Peru, Puerto Rico and Uruguay
Middle East & Africa
We are focused on the growing number of mobile phone users, providing trainings for journalists on digital integration, as it remains a challenge in this part of the world.
We're working with Code for Africa and the World Bank to provide training to six thousand journalists across 12 major African cities. Their online learning course will provide self-paced lessons for journalists across Africa. They're also working to support local Hacks/Hackers meetings to bring journalists and developers together to share new ideas.
In South Africa, we held a GEN Editors Lab hackathon, in association with Code for Africa, that brought together 35 developers and journalists to tackle a range of topics including misinformation. This builds on our support for previous events in Nigeria and further afield in Australia, Japan, Indonesia, Italy, Ireland, Portugal and Taiwan.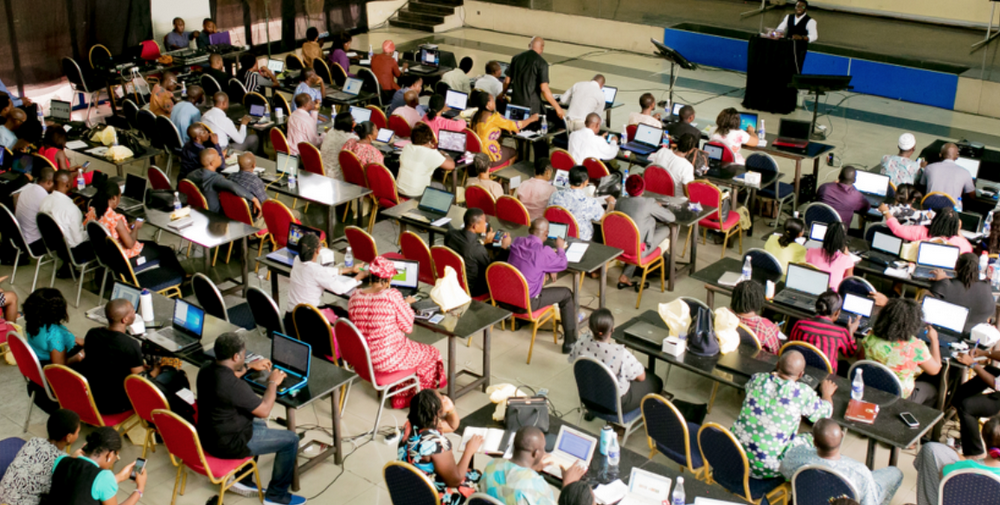 A bulk of our in-person training work has been made possible by the Google News Lab Teaching Fellowship, which launched this year and enlists industry professionals, academic experts and experienced journalists to help us provide practical, in-person workshops and presentations across the world. In total, we hosted workshops, hackathons, and in-person trainings for 48K journalists across 52 countries.
Since we can't be everywhere in-person, our online training center offers a round-the-clock service in 13 languages including Arabic, Polish, Hebrew and Hindi. We're continuing to collaborate with training organizations around the world, and our growing Training Network now includes expert trainers in Europe, the U.S. and parts of Asia Pacific. There's plenty more to do in 2018 and we're looking forward to working with journalists and newsrooms across the world.
Siti Arofa teaches a first grade class at SD Negeri Sidorukan in Gresik, East Java. Many of her students start the school year without foundational reading skills or even an awareness of how fun books can be. But she noticed that whenever she read out loud using different expressions and voices, the kids would sit up and their faces would light up with excitement. One 6-year-old student, Keyla, loves repeating the stories with a full imitation of Siti's expressions. Developing this love for stories and storytelling has helped Keyla and her classmates improve their reading and speaking skills. She's just one child. Imagine the impact that the availability of books and skilled teachers can have on generations of schoolchildren.
In Indonesia today, it's estimated that for every 100 children who enter school, only 25 exit meeting minimum international standards of literacy and numeracy. This poses a range of challenges for a relatively young country, where nearly one-third of the population—or approximately 90 million people—are below the age of 15.
To help foster a habit of reading, Google.org, as part of its $50M commitment to close global learning gaps, is supporting Inibudi, Room to Read and Taman Bacaan Pelangi, to reach 200,000 children across Indonesia.
We've consistently heard from Indonesian educators and nonprofits that there's a need for more high-quality storybooks. With $2.5 million in grants, the nonprofits will create a free digital library of children's stories that anyone can contribute to. Many Googlers based in our Jakarta office have already volunteered their time to translate existing children's stories into Bahasa Indonesia to increase the diversity of reading resources that will live on this digital platform.
The nonprofits will develop teaching materials and carry out teacher training in eastern Indonesia to enhance teaching methods that improve literacy, and they'll also help Indonesian authors and illustrators to create more engaging books for children.
Through our support of this work, we hope we can inspire a lifelong love of reading for many more students like Keyla.
Photo credit: Room to Read
Since becoming a professor 12 years ago and joining Google a year ago, I've had the good fortune to work with many talented Chinese engineers, researchers and technologists. China is home to many of the world's top experts in artificial intelligence (AI) and machine learning. All three winning teams of the ImageNet Challenge in the past three years have been largely composed of Chinese researchers. Chinese authors contributed 43 percent of all content in the top 100 AI journals in 2015—and when the Association for the Advancement of AI discovered that their annual meeting overlapped with Chinese New Year this year, they rescheduled.
I believe AI and its benefits have no borders. Whether a breakthrough occurs in Silicon Valley, Beijing or anywhere else, it has the potential to make everyone's life better for the entire world. As an AI first company, this is an important part of our collective mission. And we want to work with the best AI talent, wherever that talent is, to achieve it.
That's why I am excited to launch the Google AI China Center, our first such center in Asia, at our Google Developer Days event in Shanghai today. This Center joins other AI research groups we have all over the world, including in New York, Toronto, London and Zurich, all contributing towards the same goal of finding ways to make AI work better for everyone.
Focused on basic AI research, the Center will consist of a team of AI researchers in Beijing, supported by Google China's strong engineering teams. We've already hired some top experts, and will be working to build the team in the months ahead (check our jobs site for open roles!). Along with Dr. Jia Li, Head of Research and Development at Google Cloud AI, I'll be leading and coordinating the research. Besides publishing its own work, the Google AI China Center will also support the AI research community by funding and sponsoring AI conferences and workshops, and working closely with the vibrant Chinese AI research community.
Humanity is going through a huge transformation thanks to the phenomenal growth of computing and digitization. In just a few years, automatic image classification in photo apps has become a standard feature. And we're seeing rapid adoption of natural language as an interface with voice assistants like Google Home. At Cloud, we see our enterprise partners using AI to transform their businesses in fascinating ways at an astounding pace. As technology starts to shape human life in more profound ways, we will need to work together to ensure that the AI of tomorrow benefits all of us.
The Google AI China Center is a small contribution to this goal. We look forward to working with the brightest AI researchers in China to help find solutions to the world's problems.
Once again, the science of AI has no borders, neither do its benefits.