It was a star-studded month for Talks at Google, our very own speaker series. A few celebs stopped by to chat about what they're up to on the screen and the stage. Check them out below:
Reese Witherspoon, Jon Rudnitsky, and Hallie Meyers-Shyer visited Google NYC to talk about their new movie "Home Again." The interview reveals the celebrity history behind the house where the movie was filmed, Reese's mission to "show a girl she can be the center of her own story" as well as the story behind why Reese started her own production company.
DeepMind CEO Demis Hassabis and Denis Villeneuve discuss his new film "Blade Runner 2049," and how "cinema can evolve when we capture life in front of the camera." Villeneuve explains that it's important to give actors the space to create things that weren't planned—he calls this the "chaos of life." If you can't get enough of Blade Runner, check out Harrison Ford's talk, too.
Watch the cast of Broadway's Miss Saigon perform a few songs, and discuss how the play—which takes place in the 1970s during the Vietnam War—is relevant today, and helps create an open dialogue about issues we're facing nearly 50 years after the story takes place.
Executive Producers Morgan Freeman and Lori McCreary discuss CBS's "Madam Secretary" as Season 4 kicks off, sharing their personal histories,why they created their powerhouse production company, Revelations Entertainment, and Lori's amazing history as one of the first women to bring computer technology to the motion picture industry.
Stars of "A Bad Mom's Christmas" Mila Kunis, Kristen Bell, and Kathryn Hahn stopped by Google HQ to discuss their new movie, parenthood, and how they recharge.
Actress, singer and author Anna Kendrick chats about her book, "Scrappy Little Nobody," and (naturally) brings the laughs with funny anecdotes from her life and career.
With G Suite, we're focused on building tools that help you bring great ideas to life. We know meetings are the main entry point for teams to share and shape ideas into action. That's why we recently introduced Hangouts Meet, an evolution of Google Hangouts designed specifically for the workplace, and Jamboard, a way to bring creative brainstorming directly into meetings. Combined with Calendar and Drive, these tools extend collaboration beyond four walls and transform how we work—so every team member has a voice, no matter location.
But the transformative power of video meetings is wasted if it's not affordable and accessible to all organizations. So today, we're introducing Hangouts Meet hardware—a new way to bring high-quality video meetings to businesses of any size. We're also announcing new software updates designed to make your meetings even more productive.
Introducing Hangouts Meet hardware
Hangouts Meet hardware is a cost-effective way to bring high-quality video meetings to your business. The hardware kit consists of four components: a touchscreen controller, speakermic, 4K sensor camera and ASUS Chromebox.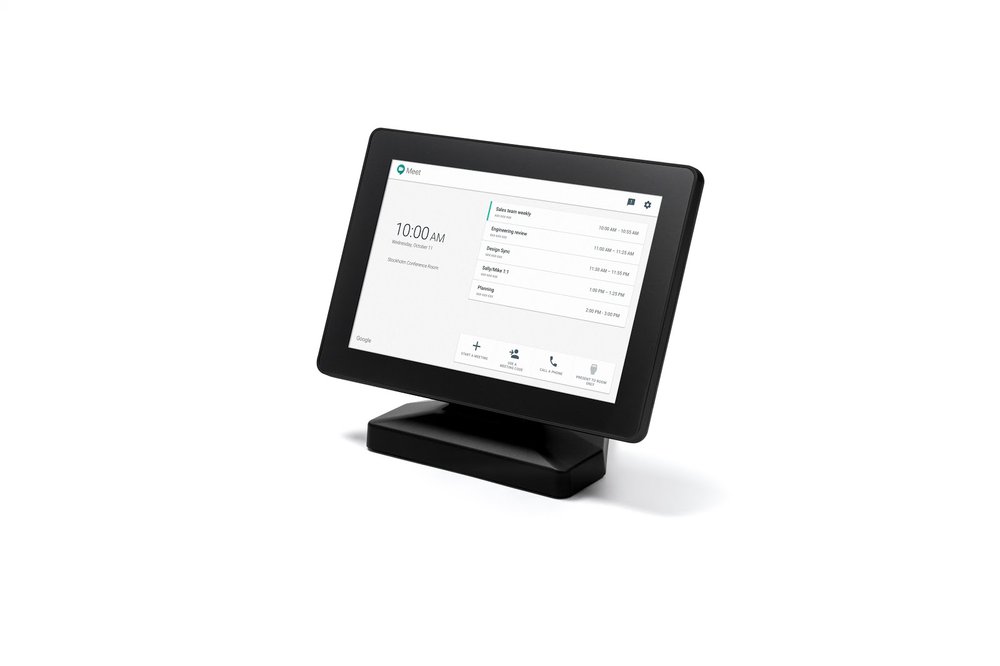 The new controller provides a modern, intuitive touchscreen interface that allows people to easily join scheduled events from Calendar or view meeting details with a single tap. You can pin and mute team members, as well as control the camera, making managing meetings easy. You can also add participants with the dial-a-phone feature and present from a laptop via HDMI. If you're a G Suite Enterprise edition customer, you can record the meeting to Drive.
Designed by Google, the Hangouts Meet speakermic actively eliminates echo and background noise to provide crisp, clear audio. Up to five speakermics can be daisy-chained together with a single wire, providing coverage for larger rooms without tabletop clutter.
The 4K sensor camera with 120° field of view easily captures everyone at the table, even in small spaces that some cameras find challenging. Each camera component is fine-tuned to make meetings more personal and distraction-free. Built with machine learning, the camera can intelligently detect participants and automatically crop and zoom to frame them.
Powered by Chrome OS, the ASUS Chromebox makes deploying and managing Hangouts Meet hardware easier than ever. The Chromebox can automatically push updates to other components in the hardware kit, making it easier for large organizations to ensure security and reliability. Remote device monitoring and management make it easy for IT administrators to stay in control, too.
New Hangouts Meet enhancements greatly improve user experience and simplify our meeting rooms. It also creates new ways for our team to collaborate.
Bradley Rhodes
IT Analyst, Woolworths Limited, Australia
Says Bradley Rhodes, IT Analyst End User Computing at Woolworths Ltd Australia, "We are very excited about the new Hangouts Meet hardware, particularly the easy-to-use touchscreen. The enhancements greatly improve the user experience and simplify our meeting rooms. We have also seen it create new ways for our team to collaborate, like via the touch-to-record functionality which allows absent participants to catch up more effectively."
More features, better meetings
We're also announcing updates to Meet based on valuable feedback. If you're a G Suite Enterprise edition customer, you can: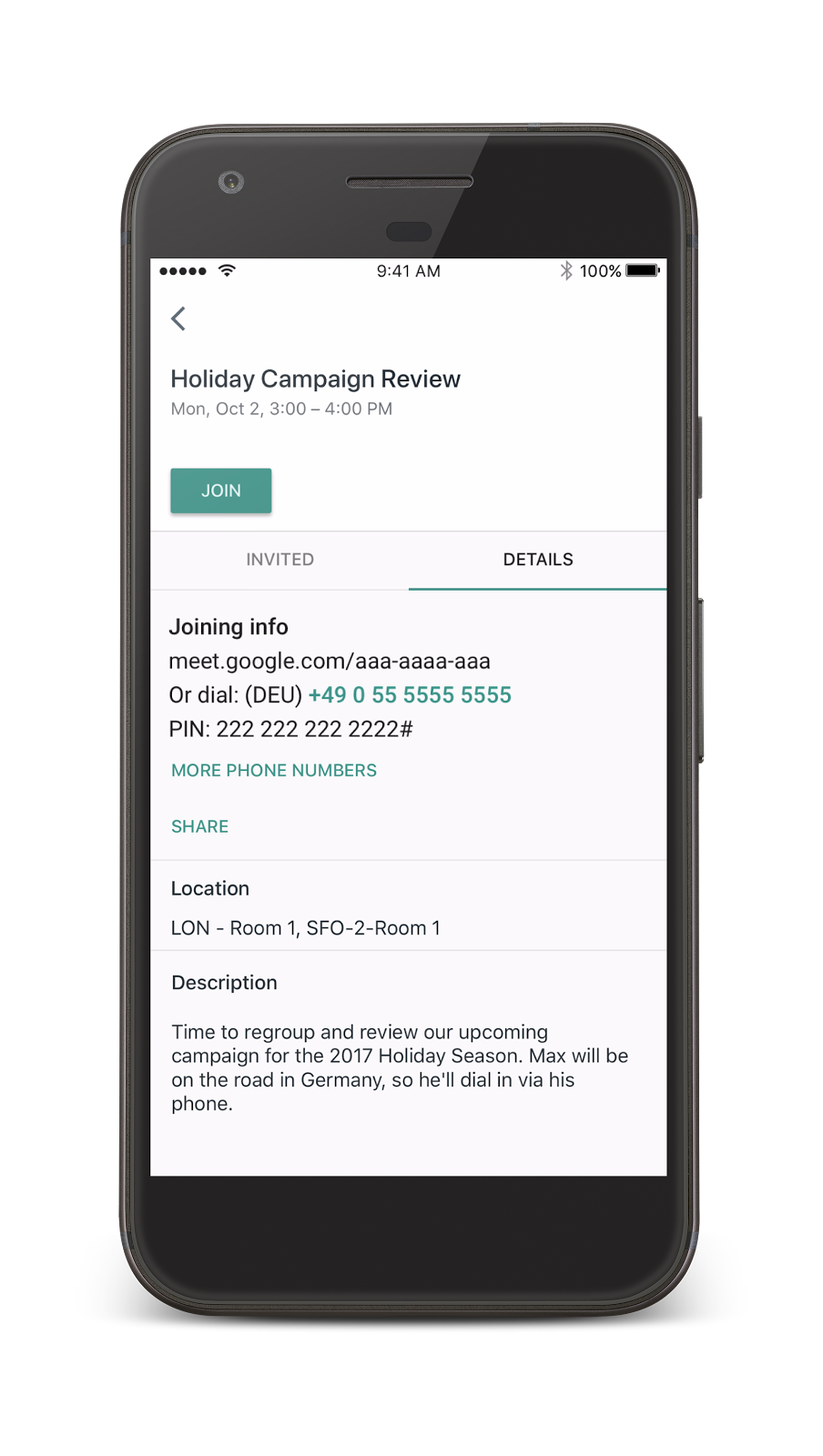 Record meetings and save them to Drive. Can't make the meeting? No problem. Record your meeting directly to Drive. Even without a Hangouts Meet hardware kit, Meet on web can save your team's ideas with a couple of clicks.
Host meetings with up to 50 participants. Meet supports up to 50 participants in a meeting, especially useful for bringing global teams together from both inside and outside of your organization.
Dial in from around the globe. The dial-in feature in Meet is now available in more than a dozen markets. If you board a flight in one country and land in another, Meet will automatically update your meeting's dial-in listing to a local phone number.
These new features are rolling out gradually. The hardware kit is priced at $1999 and is available in select markets around the globe beginning today.
Whether you're collaborating in Jamboard, recording meetings and referencing discussions in Drive or scheduling your next team huddle in Calendar, Hangouts Meet hardware makes it even easier to bring the power of your favorite G Suite tools into team meetings. For more information, visit the G Suite website.
Posted by Ritesh Nayak M and Ronald Ho, Product Managers
Today we're announcing Fast Pair, a hassle-free process to pair your Bluetooth
devices on all supported Android devices running Google Play services 11.7+ with
compatibility back to Marshmallow (Android 6.0). Fast Pair makes discovery &
pairing of Bluetooth devices easy and is currently rolling out to Android 6.0+
devices. You can try this out with
Google Pixel Buds
or
Libratone's
Q Adapt On-Ear
,
Bose® QuietComfort 35 II,
and soon on Plantronics Voyager 8200 series wireless headsets.
Ease of use, speed and security are the design principles driving the Fast Pair
specification. Fast Pair uses BLE (Bluetooth Low Energy) for advertising and
discovery and uses classic Bluetooth for pairing. Here's what a Fast Pair flow
looks like:

Turn on a Fast Pair-enabled device and put it in pairing mode.

Android scans for BLE broadcasts in close proximity of the user's phone and
discovers a Fast Pair packet (provided Bluetooth and Location is turned on).
This packet is sent to our servers to get back the device's product image,
product name and companion app (if there is one).

The user receives a high priority notification asking them to "Tap to pair" to
the device. The notification contains the product name and image.
When the user taps on the notification, we use classic Bluetooth to
establish a connection.
A success notification is shown which contains a link to
download the companion app (if there is one).
Imagine doing all of this without ever fumbling with Bluetooth settings. Users get a seamless and secure pairing
experience and confidence that they're connecting to the right product.
Manufacturers get their brand, device name and companion app in front of the
users.

Thanks to a couple of our partners who have been instrumental in prototyping and
testing this spec, and whose feedback has been invaluable to the Fast Pair
effort. If you are a Bluetooth accessory manufacturer and want to adopt Fast
Pair for your device, please reach
out to us.

Plantronics is an audio pioneer and a global leader in the communications
industry. From Unified Communications and customer service ecosystems, to data
analytics and Bluetooth headsets, Plantronics delivers high-quality
communications solutions that customers count on today, while relentlessly
innovating on behalf of their future. For more information visit plantronics.com

Libratone is on a mission to liberate sound and to expand peoples'
experiences with music in the era of streaming. Founded in 2009 in Denmark,
Libratone is one of the first audio companies to consider the aesthetics of
speakers – to move them out of the corner of the room and into the center and
onward, for the consumer on the move. For more information visit libratone.com

When people need a plumber or a locksmith, they search online for a business nearby. With Local Services by Google, businesses like yours can show up at the top of Search, so that you can reach local clients right when they're interested, and book more jobs.
Today we're announcing that Local Services, previously in a pilot as Home Services, is running in 17 cities across the U.S., and will be available in 30 major metro areas by the end of 2017.

All Google Guaranteed businesses that appear in Local Services are background checked and display a badge of trust, which limits deceptive advertisers, elicits trust among users and highlights quality businesses. Once on the platform, you can make a personalized profile page that displays your reviews, contact info, and unique aspects about your business like being eco-friendly or family-owned. Potential clients can view your profile and make a decision and get in touch right away. You only pay for leads that are relevant to the services you offer, and it's easy for you to turn your ads on and off so you get leads when you want them.
How Local Services became a "game changer" for one small business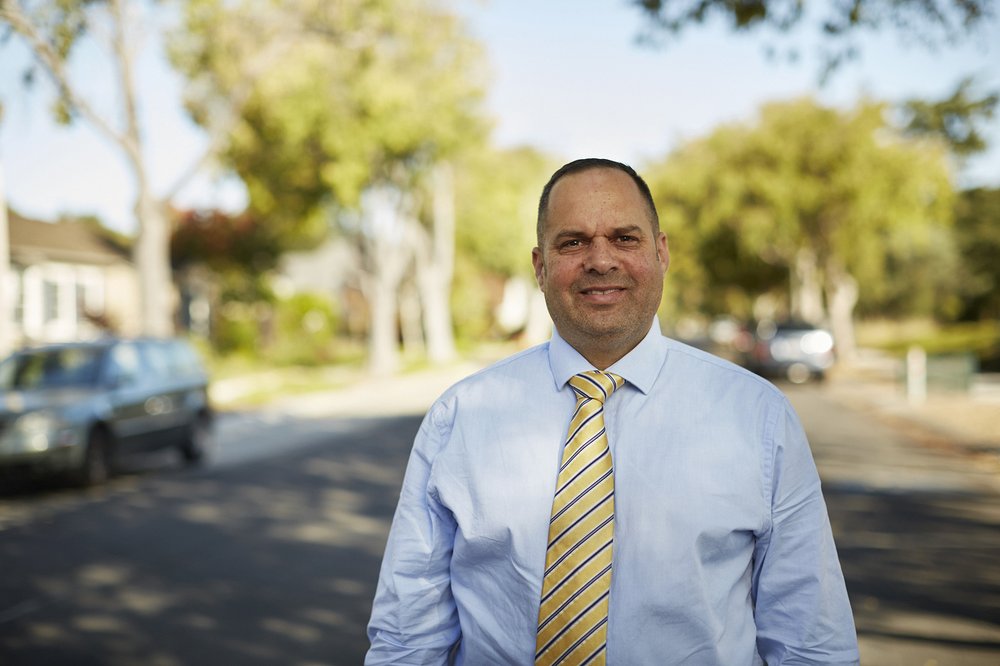 Luis Gonzalez started his cleaning company in 2010, after being laid off in the wake of the financial crisis. At first, Luis vacuumed the hallways in his apartment building for $100 off his rent.
Realizing there was a demand for local cleaning services, Luis created a website and founded Roses House Cleaning Services, nicknamed after his wife.
In the beginning, Luis used online directories to advertise locally, but a year ago he started using Local Services and saw an immediate jump in calls.
While a $300 newspaper ad might yield three calls from potential customers, Luis says, "I get 3-5 calls every day through Local Services." He calls the service a "game changer," that has sustained and grown his business—now he doesn't have to worry about getting enough jobs to fill his schedule each week.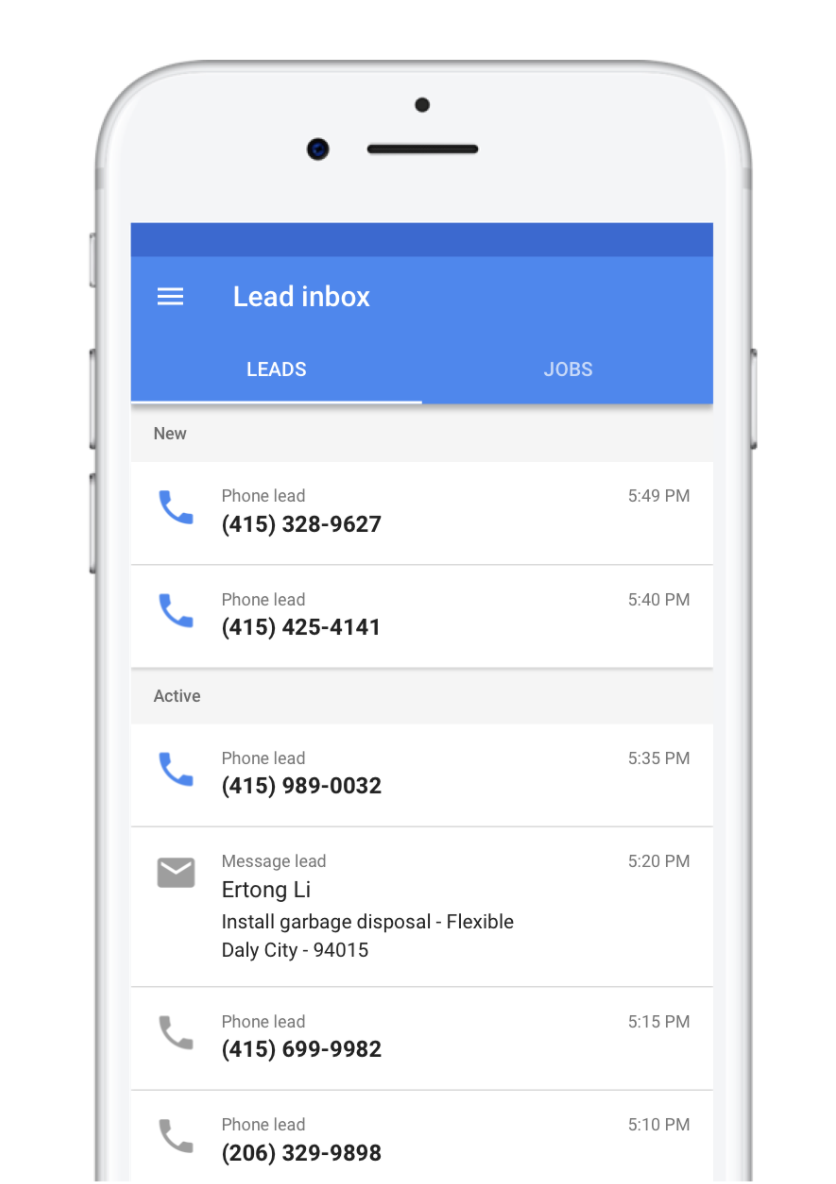 Booking appointments and tracking real results on-the-go
Luis uses the Local Services app to manage leads from his phone throughout the day, making it easy to integrate into his existing workflow. He can answer questions right away, giving customers the individual attention that keeps them coming back. Luis can track the number of leads he's received and how they're converting to jobs, right from the app.
He also uses the Local Services app to manage his budget and track calls on the go. Luis says, "If they're not repeat customers, all the new calls are coming from Google." When he's too busy, it's easy for Luis to turn the ads off so he only gets leads when he wants them.
With the consistent flow of business and the help of Google, Roses Cleaning has grown. They've recently hired two new employees to keep up with the demand.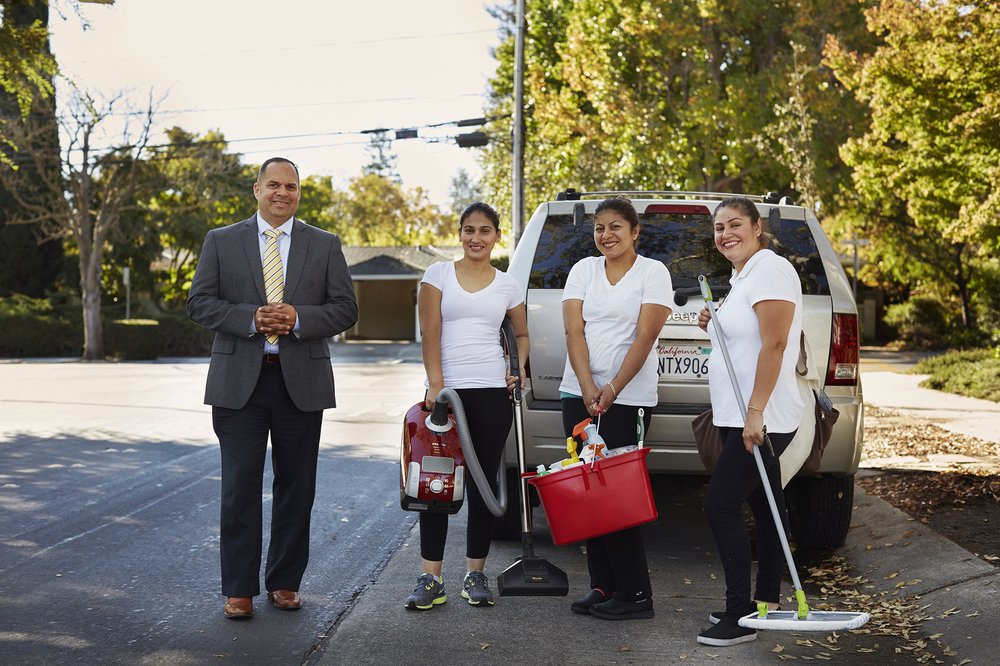 Small businesses all over the U.S. are using Local Services to bring in more calls from new customers who are actively looking to book service providers through the platform. Iftah Sagi, the owner of IVS Security in Atlanta says he gets about eight calls a day from customers that found his business through Local Services. Dan Travers, the owner of 1-800-ANYTYME Plumbing, Heating and Air, says his booking rates are up by almost 70% since joining Local Services. Both owners have also hired additional employees to keep up with the increase in call volume, just like Luis.
We're passionate about helping small businesses like Roses Cleaning, IVS Security, and 1-800-ANYTYME reach new customers directly and grow their business. You can sign up to be one of our service providers here.
Samsung Electronics today announced its new leadership for the next phase of its growth. Presidents Kinam Kim, Hyunsuk (HS) Kim, and Dongjin (DJ..
Samsung expects capital expenditure (Capex) for 2017 to be approximately KRW 46.2 trillion, a significant increase from 2016. Capex for the semicon..
Samsung Electronics announced today the Company's Shareholder Return Program for 2018-2020, which includes significant enhancements in divid..
Progress of Shares Buyback On October 31, 2017, Samsung Electronics Board of Directors (BOD) approved the fourth and final phase of the share b..
Samsung Electronics today announced financial results for the third quarter ended September 30, 2017. Samsung's revenue for the quarter was KRW 62.05..
We've seen many types of efforts to abuse Google's services over the years. And, like other internet platforms, we have found some evidence of efforts to misuse our platforms during the 2016 U.S. election by actors linked to the Internet Research Agency in Russia.
Preventing the misuse of our platforms is something that we take very seriously; it's a major focus for our teams. We're committed to finding a way to stop this type of abuse, and to working closely with governments, law enforcement, other companies, and leading NGOs to promote electoral integrity and user security, and combat misinformation.
We have been conducting a thorough investigation related to the U.S. election across our products drawing on the work of our information security team, research into misinformation campaigns from our teams, and leads provided by other companies. Today, we are sharing results from that investigation. While we have found only limited activity on our services, we will continue to work to prevent all of it, because there is no amount of interference that is acceptable.
We will be launching several new initiatives to provide more transparency and enhance security, which we also detail in these information sheets: what we found, steps against phishing and hacking, and our work going forward.
Our work doesn't stop here, and we'll continue to investigate as new information comes to light. Improving transparency is a good start, but we must also address new and evolving threat vectors for misinformation and attacks on future elections. We will continue to do our best to help people find valuable and useful information, an essential foundation for an informed citizenry and a robust democratic process.
The force is strong with this one. Samsung Electronics released the Star Wars Limited Edition POWERbot™ robot vacuum cleaner earlier ..
Posted by Frank van Diggelen, Software Engineer
Last year in Android Nougat, we introduced APIs for retrieving Global
Navigation Satellite System (GNSS) Raw measurements from Android devices. This
past week, we publicly released GNSS
Analysis Tools to process and analyze these measurements.
Android powers over 2 billion devices, and Android phones are made by many
different manufacturers. The primary intent of these tools is to enable device
manufacturers to see in detail how well the GNSS receivers are working in each
particular device design, and thus improve the design and GNSS performance in
their devices. However, with the tools publicly available, there is also
significant value to the research and app developer community.
How to use the tool
The GNSS Analysis Tool is a desktop application that takes in raw the GNSS
Measurements logged from your Android device as input.
This desktop application provides interactive plots, organized into three
columns showing the behavior of the RF, Clock, and Measurements. This data
allows you to see the behavior of the GNSS receiver in great detail, including
receiver clock offset and drift to the order of 1 nanosecond and 1 ppb and
measurement errors on a satellite-by-satellite basis. This allows you to do
sophisticated analysis at a level that, until now, was almost inaccessible to
anyone but the chip manufacturers themselves.
The tools support multi-constellation (GPS, GLONASS, Galileo, BeiDou and QZSS)
and multi-frequency. The image below shows the satellite locations for L1, L5,
E1 and E5 signals tracked by a dual frequency chip.
The tools provide an interactive control screen from which you can manipulate
the plots, shown below. From this control screen, you can change the background
color, enable the Menu Bars for printing or saving, and select specific
satellites for the plots.
Receiver test report
The tools also provide automatic test reports of receivers. Click "Make Report"
to automatically create the test report. The report evaluates the API
implementation, Received Signal, Clock behavior, and Measurement accuracy. In
each case it will report PASS or FAIL based on the performance against known
good benchmarks. This test report is primarily meant for the device
manufacturers to use as they iterate on the design and implementation of a new
device. A sample report is shown below.
Our goal with providing these Analysis Tools is to empower device manufacturers,
researchers, and developers with data and knowledge to make Android even better
for our customers. You can visit the GNSS
Measurement site to learn more and download this application.
Hey batter, batter, batter! It's late October, and the World Series is shaping up for an amazing finish. Step up to the plate with five new Google Expeditions that we created in partnership with MLB.com.
These include virtual tours of Citi Field in New York and Oriole Park at Camden Yards in Baltimore, both of which are narrated by MLB Network's Heidi Watney. You can also get behind-the-scenes access with career tours that showcase the lives of a baseball beat reporter and television broadcasters. We're also bringing you a Statcast tour, so you can geek out Moneyball-style with the math and physics behind the game.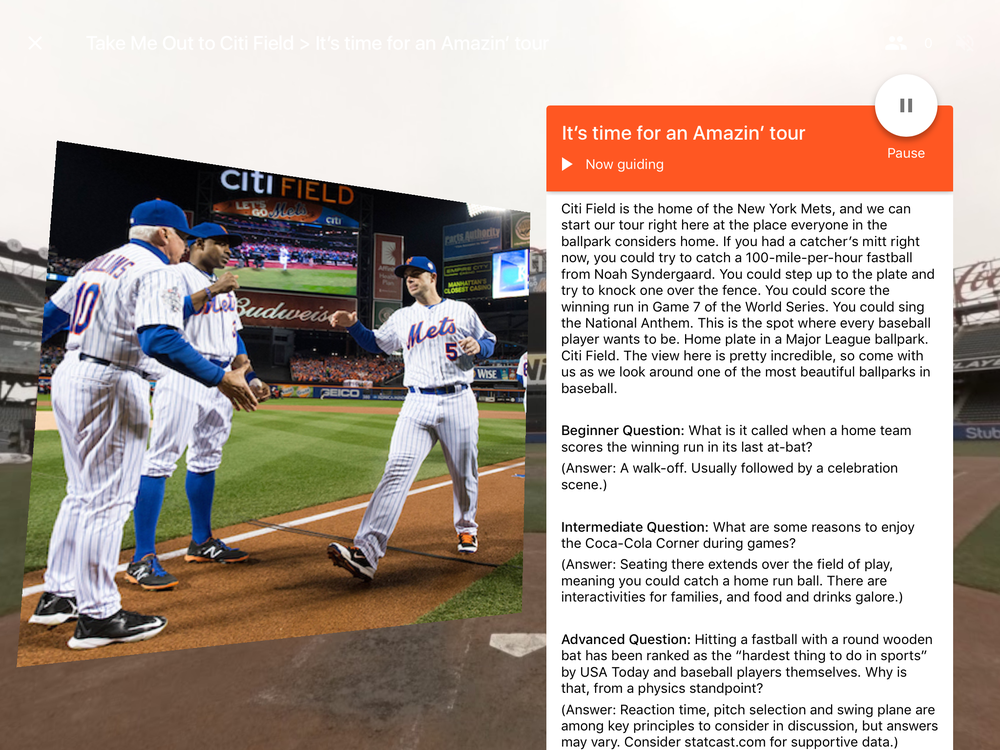 If you're an educator, we've got all the bases covered. We worked with teachers to provide accompanying free lessons plans to go along with these tours. "MLB Statcast Exploration" and "Journalism, The Appeals, and MLB" can both be found at TES.com.
Check out these MLB tours and our catalogue of over 700 unique experiences on your own or in the classroom by downloading Expeditions on your iOS or Android devices.
by Rob Goldman, VP of Ads When it comes to advertising on Facebook, people should be able to tell who the advertiser is and see the ads they're running, especially for political ads. That level of transparency is good for democracy and it's good for the electoral process. Transparency helps everyone, especially political watchdog groups […]
Beginning October 27, the new Gear Sport and Gear IconX (2018) will be available for purchase in select markets.* The two devices are the newest ad..
Throughout October 2017, Samsung employees across the globe actively participated in the company's annual Global Volunteer Festival. Now i..
Halloween is one of the top holidays to bring people together around the world, which is why Facebook has created dozens of different ways for people to get into the Halloween fun.
Samsung Electronics today announced a new addition to the Galaxy tablet portfolio, the Galaxy Tab A (8.0''), an everyday, versatile tablet de..
By Josh Mabry, News Partnerships Local news publishers across the country use Facebook to deepen their relationships with readers by sharing the stories that matter most to their community. We've seen that, on average, on-demand videos on Facebook uploaded by…